This section covers Black Hangar Studios, Cardington Studios, October Studios, Raynham Hangar Studios, Bentwaters Parks, Rebellion Studios, Mercian Studios, Ashford International Studios, Brooklands Studios and Dunsfold Park.
Black Hangar Studios – Hampshire   (2012 – present)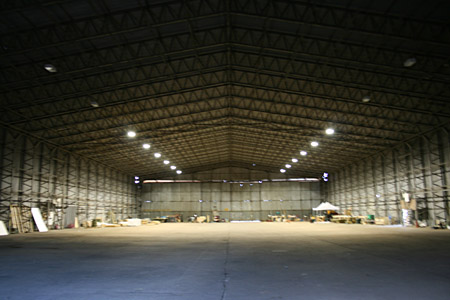 Located on Lasham airfield, a few miles from Basingstoke, this facility opened in May 2012.  It basically consists of a large hangar – 32,000 sq ft in fact – containing the UK's largest permanent green screen.  There are also associated buildings containing production offices, wardrobe, make-up, screening room and 12,000 sq ft of workshop space.  Its USP is that it also has an outdoor elevated water tank of 5,000 sq ft with an optical shooting panel in the side.  This usefully has a 180 degree natural skyline. 
The business also owns nearby land that can be used as a backlot with natural countryside all round and a complete Boeing 737 airliner for filming interiors.
Productions using these facilities include The Garden for ITV, Breaking The Bank starring Kelsey Grammer, Born To Be Blue, Salmon Fishing In The Yemen, Dark tide, Kill Your Friends, Star Wars: Rogue One, 24: Live Another Day, Ra One and Peter & Wendy.  Several music videos and commercials have also been made here.
Lasham airfield was constructed in 1942.  Initially used by the Army Cooperation Command, it became an RAF Fighter Command base from mid 1943.  Hurricanes, Spitfires and Typhoons were located here.  Later in 1943 it was taken over by the RAF's 2nd Tactical Air Force and Mosquitos and B-25 Mitchells were based here.  The RAF left Lasham in 1948.

Since 1950 Lasham has been a centre for gliding.  It is now the home of the largest British gliding club, with over 200 airframes based here.  On some days over 100 gliders can be seen in the sky surrounding the airfield.

Despite gliding being the main activity at Lasham, the main runway is capable of handling large passenger jets and an aircraft maintenance company is also based here. One assumes that arrivals and departures of these aeroplanes through skies teeming with unpowered gliders must give all those involved an extra frisson of excitement.
Cardington Studios – Bedfordshire   (filming use from around 2004 – present.)
About 30 miles north of Watford, situated in the flat landscape of Bedfordshire, can be found two of the most striking buildings in the UK.  They can be seen for miles around – and no wonder.  They are truly colossal.  Originally constructed to house giant airships, they have had a long history of decline and renovation.  No. 1 Shed (on the left if you are facing the main doors) was the first – constructed in 1915.  Around 1928 it was enlarged to over 800 feet long and the other 'shed' was moved here from its previous location at Royal Naval Air Station Pulham in Norfolk.  The Cardington sheds were the home of the massive airships R-100 and R-101.

The R-100 moored at Cardington with the visiting Graf Zeppelin beyond

Tragically, R-101 crashed in October 1930 and all work here ceased.  R-100 was left in its hangar for a year after which it was scrapped.  From 1936 the sheds were used to construct and store barrage balloons.  In 1943 they were taken over by the RAF's meteorological research department.  From 1971 they became a fire research establishment and then in 1990 a building research establishment.  The sheer size of these structures enabled buildings to be constructed within them and subjected to damage from fire, explosion and whatever else they could think of.
Around 2004 Hangar 2 was rented by a film company and then followed a succession of movies that took advantage of this enormous enclosed space to build massive sets.  Features included  The White Diamond (2004), Sky Captain and the World of Tomorrow (2004), Batman Begins (2005), The Dark Knight (2008), Inception (2010), The Dark Knight Rises (2012).  A huge set of Gotham City was built for the first of Christopher Nolan's Batman trilogy that consisted of several roads and many buildings, enabling street scenes to be filmed at day or night with full control of the lighting (and weather).  This set remained in situ until all three films were complete.
More recent features have included Pan, Rogue One, Fantastic Beasts, The Mercy, Dumbo and The Return of Skywalker.  TV productions have also made use of these exceptional facilities including It's Not Rocket Science, Airmageddon, Speed With Guy Martin, Man v Robot and Revolution.
Hangar 2 is now owned by Ronan Willson's company ELP, who also run Millennium Studios – about 12 miles away on the other side of Bedford.  It is marketed as Cardington Studios.  The exterior has been renovated and the interior has had considerable work done to provide smart workshop and office areas.  The main shooting space is nominally divided into 4 'stages' for rental purposes but stages 1-3 are also available as one open area.  There is an impressive motorised truss rig extending over most of the space.  'Normal' working height is 76 feet but it can be raised to an extraordinary 120 feet!  There are also back lot areas and plenty of parking.  As well as film and TV work, Cardington is used for rock stadium tour rehearsals and photo shoots. 
October Studios – Norfolk   (2018 – present)
In March 2015, October Films applied for permission to turn the old Jaguar Simulator Building at the former RAF Coltishall into a facility to support TV drama.  They took out a 5 year lease to assist them in their filming of a new factual crime drama: Serial Killer – Angel of Decay.  The facilities clearly proved to be useful and in May 2018 they marketed the building more widely as October Studios, hoping to attract work from other production companies – in particular UK companies working for US networks.
The buildings include several shooting spaces – some of which have standing sets, including a full scale replica of the Oval Office.  There are a wide supply of American props, costumes and vehicles available.  The enterprise is being run separately from October Films itself.  The old airbase is now known as Scottow Enterprise Park and is to be found about 10 miles north of Norwich.
RAF Coltishall entered service as a fighter base in May 1940 equipped with Hurricanes.  Douglas Bader was based here.  It later became home to night fighters and the Royal Navy operated Fleet Air Arm aircraft, patrolling over the North Sea.

After the war a variety of aircraft were located here including Mosquitos, Javelins and Lightnings.  From 1974 Coltishall became the home of the RAF's Jaguar fleet – an Anglo-French tactical ground attack aircraft.  Aircraft from here flew in the 1991 Gulf War, then in operations over the Balcans in 1995 and finally the 2003 war in Iraq.  No Jaguars were lost in action.  Until the closure of the base, the Battle of Britain Memorial Flight was also based here.

In November 2006 the base closed, following the decision to retire the Jaguar squadrons.  Coltishall was sold to Norfolk County Council for £4m.  It is now a very busy enterprise park, utilising the old RAF hangars and other buildings.  A prison has also been built on one corner of the site. 

Most of the grass area either side of the main runway is occupied by a solar farm.  Its panels can generate an impressive 50 MW of electricity.  This is expected to raise more than £10m income over 25 years for Norfolk County Council.  NB – on 30th June 2018, solar power produced 27.8% of the UK's electricity, making it the largest source of power above gas, nuclear and wind.  Fancy that.
Raynham Hangar Studios  – Norfolk (from 2019)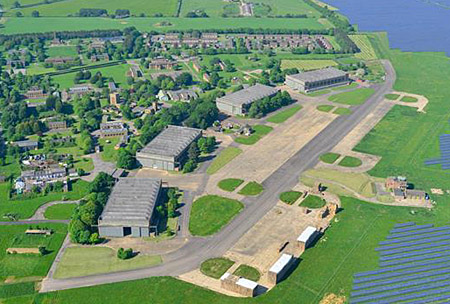 RAF West Raynham was an airbase not far from Fakenham in Norfolk.  Built just before WWII it was initially equipped with the Bristol Blenheim light bomber but later in the war, Mosquitos were based here – one of the most successful fighter-bombers of the period.  Following the war it was a fighter base, with Meteors, then Venoms and Javelins.  In 1964 a multinational squadron flew the predecessor to the Harrier here.  This was the Hawker P1127 Kestrel.  The success of these trials led to the purchase of Harriers for the RAF.

Between 1972 and 1976 Canberra high altitude bombers were based here in target towing and electronic warfare roles.  These were the last operational aircraft.

From 1975 – 1991 West Raynham was the home of 85 Squadron, operating Bloodhound medium range surface to air missiles and a unit operating Rapier short range anti-aircraft missiles was also based here between 1983 and 1991.  The base was closed in 1994.  The site was allowed to fall into disrepair until 2005, when it was at last sold by the MoD.

The runway and taxiways have been turned into a 50 MW solar energy farm, similar to RAF Coltishall.  There are many buildings on the site – these include the 4 main hangars, operations blocks, the control tower and 170 houses.  Initially a developer purchased the site in 2006 but resold it in 2007.  The new owners have upgraded the original houses and constructed many more.  Many of the original buildings now form a business park.
In 2017, one of the hangars at West Raynham was used as a base for Joanna Hogg's film The Souvenir.  The Souvenir Part 2  was also filmed here in the summer of 2019.  In December of that year the site was acquired by a new private owner who plans to create a properly equipped studio attracting features and high end TV drama.
They paid £5m which will enable the existing facilities to be upgraded and a number of other supporting buildings to be constructed – including workshops, production offices, wardrobe facilities etc.  The work is expected to take 3 years, beginning in 2020 and a number of support companies have already agreed to be based here. 
In the meantime they are offering the main hangar, which at 45,000 sq ft is a very useful size indeed, plus the old 5,000 sq ft gym.  The hangar also has a number of rooms off it that can be used as sets or workshops/stores.
A pilot for a BBC Entertainment show was filmed here in 2019.  Previous uses of the site have included BBC drama Over Here in 1996, a Channel 4 documentary on the contribution of Polish fighter pilots in WWII in 2009 – and in 2010,  Most Haunted  carried out an investigation in various locations on the base.
In 2021 Raynham Hangar became the base for Michael Winterbottom's drama This Sceptred Isle.  There are 5 episodes in the series, which dramatises the chaotic scenes in Boris Johnson's government at the start of the Covid 19 Pandemic.  Kenneth Branagh plays the Prime Minister, in make-up that uncannily resembles the man himself.  The show is due to air in the autumn of 2022 on Sky Atlantic and Now TV.
Bentwaters Parks – Suffolk   (from 2019)
RAF Bentwaters was an airbase near the village of Rendlesham, east of Ipswich. It was built towards the end of the war and became operational in April 1944, with Mustang fighters being based here.  After the war the RAF flew Meteor jet fighters.  In 1951 the airfield was transferred to the USAF in the form of the 81st Tactical Fighter Wing, who had several squadrons based here.  From 1978-1993 the aircraft were A-10 Thunderbolt II tank busters.  RAF Bentwaters is very close to RAF Woodbridge – the two were known as the 'twin bases.'  Following the fall of the Soviet Union these were two of the many airbases that were deemed to be no longer necessary for the defence of Europe.
RAF Bentwaters was incidentally where a notorious UFO incident took place in nearby Rendlesham Forest in December 1980, when several officers and airmen claimed to have seen craft of unknown origin over two nights.  On the first night a glowing object was observed in the woods and is said to have left marks on the ground.  This incident is sometimes referred to as 'The British Roswell' – the main differences here being that no wreckage was left but it was seen by credible witnesses.  Those wishing to explain away this sighting suggest that the airmen saw bright stars and a meteor shower or the light from Orford Ness lighthouse which is several miles away, and mistook them for what was described as a triangular shaped craft, glowing brightly, which rose from the ground as they approached and rapidly sped off into the night.  It's easy to see how the two could be confused by trained military personnel. 
Later, most of the men involved said they had been mistaken and saw nothing unusual but had been confused by the lighthouse.  However, Lieutenant Colonel Halt and Sgt Jim Penniston stuck by their stories.
None of which is is of any relevance to this website, except that it does all form part of the history of this airfield, which is having a brand new film stage constructed here.
The site is now known as Bentwaters Parks and is family owned.  They are offering the airfield and its historic buildings as film and TV locations as well as a working farm.  There are many buildings large and small that can be used for filming.  Productions that have used the site include Space Cadets, Top Gear, Fast & Furious 6, The Numbers Station and The Grand Tour.
In November 2017 planning permission was granted to construct a 32,000 sq ft sound stage with a grid height of an impressive 60ft. This was due to open in 2019. The plan was to turn a section of the airfield into a dedicated studio area, with associated workshops, offices, wardrobe/make-up and a back lot.  In October 2021, the Bentwaters Parks website still unfortunately said 'Coming Soon' so your guess is as good as mine as to when this will be available.
Rebellion Studios – Didcot, Oxfordshire   (from 2019)
In December 2018, video game and comic book publisher Rebellion announced that they had purchased a large former print works near Didcot, 20 minutes' drive from Oxford.  The building offers a total of 220,000 sq ft, including 6 areas suitable for use as shooting stages.  Fortuitously, these were soundproofed by the previous owner to reduce the noise of the printing presses.  The largest is a decent 25,000 sq ft.  The stages have been given interesting names – Atrium, Boulevard, Capital, Delta, Exhibitor and Falcon.
There is also plenty of space for a mix of workshops, wardrobe/make-up facilities and production offices.  A VFX department is based here too, as are technicians working in motion capture.  A rigging company is also located here.
The studios became available for hire in 2019.  The first production was Rebellion's own  School's Out  Forever.
Mercian Studios – Birmingham   (from 2022?)
In October 2018 Stephen Knight, creator of  Peaky Blinders , announced that he had been working on a plan to build a studio centre in Birmingham for the previous three years.  The location was originally to be near Birmingham Airport but it later shifted to a city-centre site in Digbeth, just a 2 minute walk from the Curzon Street HS2 station.  Stephen has pointed out that when HS2 begins operating around 2030, Birmingham will only be 45 minutes from London.
Mercian studios will consist of six sound stages, intended primarily for film and TV drama but one will be aimed at 'shiny floor' TV shows and will include audience handling facilities.  The sizes are to be confirmed but five will be 'large' and the sixth 'more compact.'  The site will include workshops, prop stores, production offices and all the usual wardrobe and make-up facilities.  The aim is to attract a permanent local team of technical and craft workers and to have training facilities, including apprenticeships.
The scheme will include facilities for the general public including bars, restaurants, a cinema and a theatre.  There are also plans to include a recreation of a Victorian cobbled street.  This will have real working businesses in it that the general public can use – but it will be available as a film location when required.
No public money is involved – the studios are being funded by private investment.
According to press reports in January 2020, work was due to begin on this project in March – but I assume this was postponed due to the Coronavirus pandemic.  I looked in October 2021 and could find no information on these studios' progress.  Can you help?
Ashford International Studios – Kent  (from 2023)
Ashford in Kent is only about half an hour from London, via the HS1 channel tunnel rail link.  Quinn Estates submitted a planning application for an impressive new development here in October 2019.  The former Newtown Railway Works – some Victorian engine sheds that have been derelict for many years – are to be turned into apartments with a large hotel alongside.  More interestingly, they also plan to construct 4 film stages totalling 80,000 sq ft.
The developers have formed a partnership with The Creative District Improvement Company (TCDI Co), along with their sister company The Time + Space Company.  These are the people who acquired Twickenham Studios and Littlewoods Studios early in 2020.  This company, led by Piers Read and Jeremy Rainbird – familiar figures to many in the industry – have stated on their website that they plan to invest £500m in a network of film/TV drama studios across the UK. 
In March 2020, TCDI Co announced that they would be investing £250m in this scheme.  As well as the four stages, it will include 80,000 sq ft of ancillary production space, 50,000 sq ft of storage and 30,000 sq ft of media village.  This will contain a new film school called the Future Media Centre, in partnership with University of Kent and three other nearby universities. 
Planning permission for the scheme was granted on 22nd April 2020 by Ashford Council, in their first ever 'virtual' meeting during the Coronavirus lockdown.  The studios were set to open in 2022 but in May 2021 there were press reports of delays, due to the Coronavirus pandemic and some issues with funding.  It transpired that the large hotel which was an important feature of the project was unlikely to be included after all. 
Fortunately, in October 2021 the budget was given a boost of £14.7m from the government's 'levelling up' fund.  This has enabled the scheme to proceed.  However, a delay of at least a year was announced with an opening date for the studios in the first quarter of 2023 now likely.
Brooklands Studios – Surrey  (from 2020)
I could write a 10,000-word history of Brooklands and still only touch on all its many stories.  It began as Europe's first motor racing track in 1906.  Parts of the original banked circuit still remain.  It was also where some of the first aircraft in the world flew.  A V Roe's experimental trials took place here in 1907.  Aircraft manufacturers Sopwith, Hawker, Vickers and BAC had their factories here and their aircraft flew from the runway that was located in the middle of the racetrack.  Famous WWII aircraft assembled here included the Hurricane fighter and the Wellington bomber.

After the war, the factories produced the Viscount, the Vanguard and the BAC-111.  The beautiful long-range airliner the VC-10 was also manufactured here.  Perhaps the most iconic aircraft associated with Brooklands is Concorde.  The factories here built a significant part of each aircraft and one of them is here on display.  I can thoroughly recommend a day out at Brooklands – especially the Concorde Experience, which includes a 'flight' in the aircraft and a visit to the actual simulator used to train the pilots.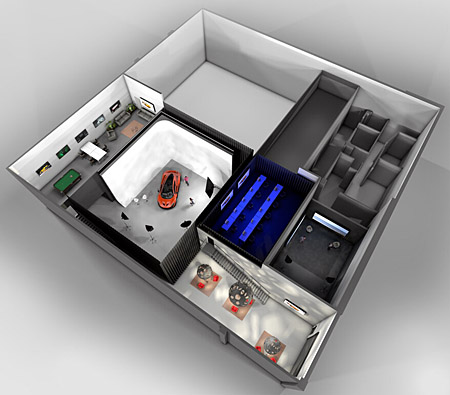 Brooklands Studios opened in May 2020 offering a TV studio with supporting facilities.  Studio 1 is 46 x 36ft. (1,656 sq ft).  It has a gallery with video, media server, sound and lighting equipment available and has a 3-sided green screen.  It is marketed as a VR studio as well as being suitable for conventional sets.  There is a box-section truss rig over the whole shooting area. Studio 2 is 32 x 20ft and opened in March 2021.
The studios are described as being suitable for live TV streaming, filming, photography, webinars, music videos and product launches.  This looks to be a very well equipped and useful facility.
Dunsfold Park – Cranleigh, Surrey (from 2002)
Dunsfold Aerodrome was built in 1942 for the Royal Canadian Airforce who initially flew Tomahawks and Mustangs from here.  From 1944 the RAF took over the base and they flew Spitfires, Typhoons and Tempests.  After the war the airfield was purchased by Skyways Ltd.  In 1950 the Hawker Aircraft Company moved in and developed the Hunter jet fighter here.  In 1960 the prototype for the Harrier – the P1127 – was flight tested at Dunsfold.  The RAF's Harriers and Royal Navy's Sea Harriers were later built here, as were the RAF's Hawk trainers.  When the order book for aircraft was closed around 2000, British Aerospace (which had taken over Hawker Siddeley) left the base.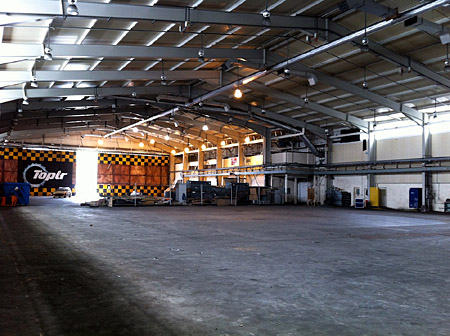 In 2002 the airfield was sold to The Rutland Group, who renamed it Dunsfold Park.  Later that year the BBC's Top Gear began a long residency when they took over one of the hangars to use as a studio and turned some of the taxiways into their well-known test track.
An area of the airfield is now marketed as a filming facility and offers 4 buildings to be used as shooting spaces.  These stages are 11,000 sq ft, 8,300 sq ft, 4,300 sq ft and 3,300 sq ft.  There are also workshops, prop storage, office space, green rooms etc available as well as plenty of open area for building exterior sets.
A valuable resource at Dunsfold is the availability of no less than 3 Boeing 747s for filming use.
Productions that have filmed here include Casino Royale, Red 2, Rush, World War Z, The Theory of Everything, Primeval and the comedy Come Fly With Me.