from 2022
Yet another new film studio was announced at the end of 2021.  Due to be available from April 2022, it is owned by Ryan Dean.  His company is a major creator of commercial and corporate content.  He has decided to open these £20m studios to fulfil the ever increasing demand for sound stages in London.  They are located in Premier Park, Park Royal, not far from the Garden Studios and the Panalux HQ, and are an adaptation of existing industrial premises.  They have recently been extensively refurbished and were previously occupied by Sofology.  The green credentials of the building are notable, including multiple solar panels on the roof.
The facilities on offer are very impressive.  All 5 stages are equipped with motorised trusses, enabling rapid rigging and derigging.  Each stage has a large dock door leading directly to a 70,000 sq ft outdoor area.  The stages have resin floors and drape tracks all round.  They are said to be fully soundproofed.  There are also plenty of wardrobe and make-up areas, green rooms, production offices and dining areas.  In addition, there is a 10,000 sq ft space that can be used for prop storage, wardrobe etc.  There are plans for a Virtual Production stage to open later in 2022.
Interestingly, the studios offer some impressive post production facilities, including a screening room, edit suites, dubbing facilities and a DaVinci grading suite.   RD Studios allow clients to bring in their own lighting kit (this is not permitted at some other studios) but also offer a wide range of equipment hire.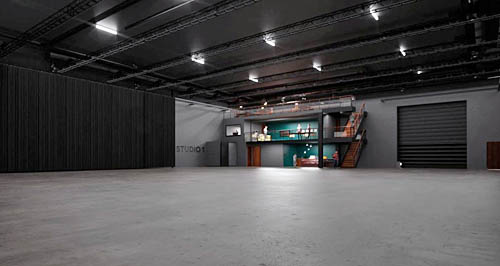 The stages are as follows:
Studio 1 – 8,560 sq ft with a height of 26 ft
Studio 2 – 4,530 sq ft with a height of 26 ft
Studio 3 – 9,255 sq ft with a height of 26 ft
Studio 4 – 3,105 sq ft with a height of 26 ft
Studio 5 – 2,934 sq ft with a height of 26 ft
Although it would appear that these facilities are primarily aimed at the commercials market, these sound stages would probably suit TV dramas and comedies and low budget features too.