1935 – present
(Revised February 2023)
Pinewood is the UK's largest studio – currently with 29 sound stages, an underwater stage, an exterior tank and 3 TV studios.  Another 21 stages are to be built and there is planning permission for 4 more.  It will soon be the largest film studio in the world.  It is also probably the best-known UK film studio in the world.  Although Pinewood quite rightly deserves this fame for all the successful feature films made here, many TV dramas, comedies and entertainment shows have also been made in Pinewood's TV studios and film stages.  I am privileged to have worked there on many occasions between 2002 and 2020 – every time I walked round the site I couldn't help get a buzz of excitement.  I still visit occasionally – it's just as thrilling as it ever was.
Pinewood's story dates from 1934 when Charles Boot, a businessman with film-making ambitions, bought Heatherden Hall.  A year later he met J Arthur Rank and the rest is, as they say, history.  Stages A – E were the first to be built; opening in 1936.  They still form the hub of the site. In 1957 an additional two smaller stages (F and G) were brought into operation along with two new viewing theatres.
Other stages have been added over the years including, of course, the huge 007 stage – which was originally built in 1976 for the film The Spy Who Loved Me.  When completed it was 334ft x 136ft and was the largest stage in the world.  It also had one of the biggest indoor tanks – at 297ft x 72ft and nearly nine feet deep.  It was in fact a 'silent' stage as it was not soundproofed.  Nevertheless, dialogue was often recorded in it – although filming sometimes had to wait for the occasional passing aircraft.  This stage was completely destroyed by fire in June 1984 and reopened in January 1985, with a few alterations to its design, as the 'Albert R Broccoli 007 Stage', in honour of the producer of many early Bond movies.  It is however known throughout the industry simply as 'The Bond Stage'.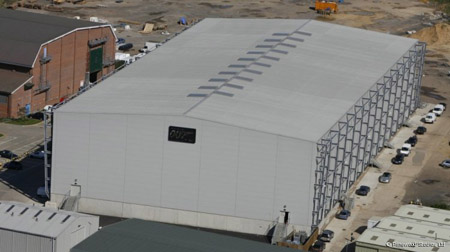 On Sunday 30th July 2006, during the derigging of sets for Casino Royale,  fire broke out once again.  The stage was almost completely destroyed but within a few months it had been dismantled and trucks laden with steel were arriving on site to begin the construction of its replacement.  The new stage was completed in March 2007.  It is said to have better sound insulation than before and the design is rather different with vertical walls rather than the sloping ones of its predecessor.  The structural steel frame is now cleverly outside the walls thus increasing the useable floor area considerably.  It has gone from about 45,000 sq ft to 59,000 sq ft and is the largest in Europe.  Even that wasn't big enough for the film Prometheus in 2011.  One end of the stage was opened up and a temporary structure extended it many more feet onto the back lot.
There is little point in trying to name all the films that have been made at Pinewood.  The list goes on and on.  It includes some of the greatest and most successful movies made anywhere in the world.  The studios' own website is an excellent source of historical material and there are several books that recount the ups and downs of these studios.  But – our subject is television, so…
Pinewood was first and foremost a film studio.  However, the increasing demand for television drama shot on film created a new market in the early 1960s.  According to George Perry's book, 'Movies from the Mansion', in 1964 stage H was built specifically to house MCA productions, who were to make several filmed TV series.  Owen and Burford's more recent book 'The Pinewood Story' says the same.  The books state that as well as the 'new' stage a self-contained block was constructed with admin areas, dressing rooms, make-up and wardrobe.  The first TV series was called Court Martial and consisted of 26 x 48-minute episodes. 
I must confess, I have a problem with this account.  To be frank, H stage never looked as though it was built to make television productions in the 1960s.  It is no longer with us but for many years was an ugly, concrete construction and was in fact much older than that.  It can be seen on aerial photos of the site dating back to the 1950s and in the drawing shown above is referred to as the 'tunnel stage.'  It was very narrow – making it rather difficult to arrange sets within it, I would have thought.  It joined onto the Large Process Stage – another even narrower long building and was part of that complex.  Confusingly, the Large Process Stage later became named stage H.  The original H stage was a very odd shape being 89 feet long but only 36ft 6ins wide.  (The later H stage was possibly even more strange being 115ft x 28ft.)
The curious long, narrow 'process' stages that stuck out of stage E were built for a system called 'Independent Frame.'  This was developed by a group of technicians and scientists shortly after the war.  Rank was very keen to find ways of making films faster and cheaper.  The Independent Frame system used a complex back projection system – sometimes as many as three BP screens were in use so the camera could pan.  The camera shots were all worked out before shooting took place and background plates were filmed, having calculated exactly the right lens height, angle and focal length for each shot.
There might be a few foreground props but the idea was to have almost all the backgrounds projected so no physical scenery was necessary.  Quite how people opened doors and walked into rooms is not explained.  In other words, they were developing modern VR techniques decades before any of that was possible using today's giant high-res LED screens.
Given the limitations of the Independent Frame technique, the resultant films were very static and looked rather odd.  Despite Rank pouring huge amounts of money into the system, it was dropped after a couple of years. 
Thanks to Ed Nassour for pointing this out.
My conclusion, although I have yet to find final proof of this, is that the tunnel stage was refurbished and renamed H in 1964.  Thus the stage was not actually built for MCA, rather it was adapted from its previous use.  New admin and wardrobe/makeup facilities were created alongside it for MCA to use.  However, this is not all they used. Bill Hill, one of their producers, has recalled that…
' The people at Pinewood built us our requirements as a self-contained unit.  They gutted a whole block and reconstructed it, creating an admin block, completely self-contained and inter-communicating, plus dressing rooms, make-up, hairdressing and wardrobe departments.  They modified  three  stages for our production. (My emphasis)  This went on during July and August. The unit of 150 people started to arrive ready to shoot on 7 September.' 
(This quotation is gratefully taken from Owen and Burford's 'The Pinewood Story.') 
Thus, it seems that two more stages were involved, as well as H. Stages F and G were nearby so one assumes that these three formed the dedicated MCA complex.
In 1966, work began on two new stages – J & K.  Constructing them would cost £352,000.  Previous stages on studio sites in the UK had mostly been built out of steel, clad in concrete – often painted cream.  Frankly, these old stages are not particularly attractive as buildings.  However, J and K were different in many ways.  They were faced with red brick and with their admin and wardrobe/make-up facilities as part of the construction they form a nicely proportioned and visually attractive construction.  The Pinewood management and architects visited studios all over the world to discover the latest techniques in design and construction and applied them to these stages.
Television was very much in mind when they were designed.  This requires fast re-lighting of sets so a grid with monopoles was included.  Monopoles allow lights to be rigged with great accuracy and to be positioned much faster than on conventional film stages.  (The way overhead lights are rigged on film stages is to mount them on elevated or suspended platforms or to hang them on scaffold poles, ladder beams or trusses that are hung from the grid via steel lines or chain hoists.  This is a very slow and relatively inflexible method.)  In J & K a grid was designed combining monopoles for lightweight lamps and I-beams enabling very heavy lights and scenery to be suspended.
The other main difference between a TV studio and film stage is the floor.  A film stage traditionally has a floor covered in hard wooden blocks that can have nails hammered in, enabling scenery to be secured rigidly to the ground.  Thus, any camera moves have to incorporate the use of tracks as the floor is too uneven to roll a dolly across it.  This takes time to set up – time that does not exist in the making of television programmes.  TV studios have a hard concrete floor covered with perfectly flat lino or resin, enabling the wheels of camera peds or dollies to run smoothly over it.  J and K were intended to be used for both film and television so this created a problem.
The solution was to have a hard smooth floor that had a wooden surface laid over it when required. The wood block floor was laid in removable pallets 8ft x 5ft which sat on top of the flat TV floor.  In fact, after a year or two the wood stayed down until 2000, when the stages became dedicated TV studios and new resin floors were laid.  (Incidentally, I have been told that the current TV floors have been laid on top of the wooden pallets – beneath which is the original TV floor.  I wonder how many people realise this!)
The stages were also constructed with very effective acoustic isolation, being built on separate concrete rafts.  The centre production office/control room/makeup and wardrobe area between the stages sits on its own T-shaped floating raft.  This is all quite a contrast to some of today's studios and stages that have been very simply and cheaply adapted from former industrial buildings.
From the sound point of view, the stages included 'high grade microphones and the installation of a Mellotron.'  For those of us old enough to remember bands like Yes, Genesis and King Crimson, the word Mellotron conjures up the sound of grand sweeping strings, brass sections, 8-voice choirs and many other classic sounds of '70s progressive rock.  However, because the Mellotron was basically a keyboard with a pre-recorded tape linked to each key on the keyboard, there were non-musical versions available that had sound effects on each key so that these could be played in immediately in real time, much as digital samplers are used today, thus saving time on the dub.
Another bit of forward planning in the design of these stages was to include space for TV control rooms.  At the time of construction, all the TV drama made at Pinewood was on film but they considered the possibility that in future they might have to record on videotape using TV cameras.  Thus, control rooms were incorporated between the stages, with windows at first floor level looking on to the studios.  The rooms were not equipped and were initially used as observation rooms but they soon became dressing rooms and production offices.  After a few years the windows were boarded up.  They were left like that for many years but were re-glazed in 2013 when they once again became observation rooms.
The galleries were eventually equipped in 2000 and 2001 – although not quite as originally intended.  Until 2012, studio TV-one had its production gallery at ground floor level although TV-two's production gallery was on the first floor in the space it was originally designed to go all those years ago.  The lighting galleries were both on the ground floor.
Over at Elstree a new block containing stages 8 and 9 was being built at the same time – these stages had a similar grid with monopoles and also TV control rooms between the stages that, like Pinewood, were not equipped but included in the building just in case they would be needed in the future.  How right they were.
J and K (now known as TV-two and TV-one respectively) are quite large as TV studios go at 110 x 80 ft gross – 106 x 74 metric ft within firelanes.  We will come to their use as TV studios shortly…
In 1969, stages  L and M  were built – using the same design principles of a monopole grid and hard floor with wooden surface.  These stages did not however have TV control room suites included. They are 105 x 90 feet wall to wall, so slightly shorter than J and K but usefully quite a bit wider.
L and M are still mostly used as film stages, although they have often been used to make TV dramas on single camera film or video – for example, they were Gerry Anderson's base in 1970 for the last 9 episodes of UFO, between 1973 and 1976 when he made 48 episodes of Space 1999 and again in 1994 and 1995 for 24 episodes of Space Precinct.  The Persuaders with Roger Moore and Tony Curtis was also made in one of these stages at the same time as  UFO  in the other.
New Tricks  was a more recent regular occupant with 107 episodes over 12 series between 2003 and 2015.  Stage M also featured prominently in the first series of Ricky Gervais' comedy Extras.
L and M have been booked in the past for multi-camera productions using drive-in OB trucks as control rooms.  For example, a series of the gameshow Strike it Lucky  was recorded in 1994 in one of this pair.  Pinewood have considered converting them into TV studios with control rooms and resin floors in the past but at the time all the stages on the site were very busy with film work.  In fact, according to press reports in 2007, EastEnders looked as though it was due to move to Pinewood within a year or two.  These two stages were earmarked to be converted into studios for that programme.  However, the plans were abandoned and EastEnders stayed at BBC Elstree.
If Pinewood do ever increase the number of TV studios on this site, L and/or M are the obvious candidates.  For many years it looked possible that this was about to happen but film bookings always took precedence.  Since 2019 all the stages here have been booked by Disney and frankly it seems unlikely that they will give up one or both of these stages for multicamera TV use.
TV series and dramas shot on film in the 20th century at Pinewood have included Court  Martial ('64), Man in a Suitcase ('66), The Avengers – 2 eps ('66), Strange Report ('68), From A Bird's Eye View ('69), UFO ('70), The Persuaders ('70-'72), Shirley's World ('71), The Zoo Gang ('73), Space 1999 ('73, '76), The New Avengers ("76, '77), The Professionals ('77), Press Gang ('89),  Ivanhoe ('81), The Hunchback of Notre Dame ('81), Witness For the Prosecution ('82), The Last Days of Pompeii ('83), Master of the Game ("83), Squaring the Circle ('83), The Corsican Brothers ('84), Deceptions ('85), Still Crazy Like a Fox ('86), Pack of Lies ('87), Hazard of Hearts ('87), some sketches for  French and Saunders ('87-'98), A Man For All Seasons ('88), War and Remembrance ('88), Press Gang ('89), Crucifer of Blood ('90), Fry and Laurie's Jeeves and Wooster ('91), The Camomile Lawn ('91), an episode of Inspector Morse ('91), Bye Bye Baby  ('91), Tales From the Poop Deck ('91), Dennis Potter's Lipstick on Your Collar ('92), Lady Chatterley ('92) , Head Over Heels ( '92), Minder ('93), The Borrowers ('93), Moving Story ('93), Space Precinct ( '94, '95), Chandler and Co. ('94, '95), Poirot ( '94), The Spooks of Bottle Bay ('94), Class Act ('95), The Final Cut, ('95), Last of the Summer Wine ('95, '98, '05, '06), Ivanhoe  ('96), The Preventers, ('96), Hostile Waters ('96), Born To Run ('96), Jonathan Creek ('96, '97, '99, '04), Crime Traveller ('97), Potamus Park ('96, '97), Invasion Earth ('97), The Vanishing Man ('97), CI5: The New Professionals ('98), Little White Lies ('98), Hornblower ('98, '00, '01, '02) , Roger Roger ('98), Midsomer Murders ('98), Harbour Lights ('98) and the brilliant  Longitude ('99).
Dennis Potter's final two drama series, Karaoke and Cold Lazarus were filmed at Pinewood in 1995 – unique in that in order to fulfill the writer's dying wish they were jointly financed and transmitted on both BBC1 and Channel 4.
Parts of the two British episodes of Friends -The One With Ross' Wedding were also filmed here in 1998 – the rest was made in front of an audience at Fountain Studios.
More recent single-camera TV dramas and comedies shot here (often using L or M stages) have included Dinotopia ('00), The Lost World ('01), The Queen's Nose ('01), Trial and Retribution ('02), Wild West ('02), Spooks ('03-'11), Ray Winstone's Henry VIII ('03), Auf Wiedersehen Pet ('03, '04), My Dad's the Prime Minister ('04), two episodes of Dr Who ('06), some sketches for  Dead Ringers ('03, '04, '05), some sketches for Little Britain ('03-'06), Grandma's House ('10), some sketches for That Mitchell and Webb Look ('06-'10), scenes for Come Fly With Me ('10)  New Tricks ('03-'12) and Episodes ('10, '11). Episodes  was particularly noteworthy, being set in Hollywood but with almost all the interiors and some exteriors shot on a stage here in Pinewood.
In recent years Pinewood has been the base for several TV dramas made for Disney+.  These have included Andor season 2, which began filming in Nov 2022 but was on hold for much of 2023, due to the US writers and actors strikes.
A number of gameshows and entertainment programmes have also used various stages as multicamera studios.  These include Strike it Lucky ('94), You Bet ('95), Dog Eat Dog ('01), Shafted ('01), Braniac: Science Abuse ('04, '05 '06), X-Perimental ('04), The Whole 19 Yards ('09), The Magicians ('11) and Got To Dance ('11) which was transmitted live from the R stage.  A fibre network has been installed all round the Pinewood site enabling any of the stages to transmit live TV and in 2011 the link to the BT Tower was upgraded to uncompressed HD.
Although Pinewood has recently had its ability to handle live TV upgraded, in fact the first live TV broadcast was from the K stage in 1992.  This was for the children's Saturday morning show  Parallel 9 which ran for several months in the summers of '92 – '94.  The K stage became the surface of a distant planet whilst celebrity guests had to enter a tatty little caravan on the back lot, which of course was the 'portal' to Parallel 9.  Weekends are usually quiet at Pinewood (apart from the occasional fire) so this show did not interfere with the normal running of the studios.
Dragon's Den has also been shot here at Pinewood.  The first two series in 2004/5 used a real location but after that the show built a set on the F stage (100 x 76 ft).  Since 2012 they have used various studios and stages in Salford and Manchester.
In February 2000, Pinewood was purchased from Rank by a business consortium headed by Michael Grade and Ivan Dunleavy.  In June of the same year, J stage began conversion into a dedicated TV studio, with a resin floor and its own fully equipped gallery suite with digital mixer and associated electronics.  In 2001, K was similarly converted into a digital TV studio specifically for The Weakest Link, which had previously been using Capital and then Magic Eye Studios in Wandsworth.  (Thanks to Neil Wallace for that info.)
Following some further refurbishment in 2005 the studios were renamed ' TV-one ' and ' TV-two '.  (K became one and J became two.)  The studios specialise in series with standing sets but do occasionally accommodate single productions.  For many years TV-one had The Weakest Link as a regular booking whilst TV-two had sitcoms like My Family, According to Bex and All About Me  filling its schedule.  The first series of The Catherine Tate Show was also recorded in TV-two.  Test the Nation came from TV-one on a few occasions when Fountain was busy and the Christmas special of The Green Green Grass was recorded in TV-two in October 2005.  It was shot in high definition using an OB unit for facilities as the studio did not have its own HD gear. 
The second series of Extras was also filmed in TV-two in 2006.  This series dealt with the making of a sitcom which was part recorded using the studio's facilities.  Most of the series was shot on single camera Digibeta.  Exterior shots showed BBC TV Centre but no, the studio was actually here at Pinewood.  The Extras 2007 Christmas special was also made here in the summer of that year.  In the spring of 2007 TV-one was the home of the second series of The IT Crowd, the production requesting that they have a studio with the production gallery on the ground floor. 
I had the pleasure of returning to the studios in November 2007 when I lit a revival Christmas special of To The Manor Born in TV-one.  This was shot in HD using an OB truck parked in front of the building.  Other shows around this time included Lily Allen and Friends in 2008 and Would I Lie To You in 2009.
2008 saw an interesting development.  The highly acclaimed theatre production of King Lear, with Ian McKellan in the title role, was recorded in TV-two for C4 and the American PBS channel.  Unfortunately this didn't seem to herald an immediate return to recording successful theatre productions for television so that many more millions can see them – in the way the BBC did for many years but oddly abandoned in the early 1990s.  Actually of course, that's not strictly true any longer.  Since about 2012 several productions have been broadcast live from the National Theatre and Royal Opera House to cinemas around the country.  This only became possible when cinemas were equipped with digital projectors.  And now the archive of the National Theatre's recorded productions are available for all to stream via NT at Home.
In 2009 a BBC Children's series –  ZingZillas  – took up residence in TV-one for most of the year.  This meant that the final series of Weakest Link before its move to Glasgow was moved into TV-two.  The knock-on effect of this was that My Family had to move from its home of several years to Teddington – a move they were said to be very unhappy about.  This in turn unfortunately disrupted several regular Teddington bookings including Harry Hill's TV Burp, which moved to TV Centre – affecting subsequent use of Teddington by that production company for a few years.  Once My Family wrapped, Teddington's studio 1 was nothing like as busy as it had been previously.  All this disruption to so many productions caused much comment amongst many people in the industry.  At the time, it certainly looked as though the solution causing the least fuss would have been to move Weakest Link onto a film stage as it was going to transfer to Glasgow for its next series anyway.
The first part of 2010 was somewhat thin on the ground for TV bookings in these two Pinewood studios and from the summer they were rented out as film stages for the X-Men: First Class movie.  Film bookings extended well into 2011, TV-one being used as a props workshop supporting Ridley Scott's Prometheus.  It was also used as a wardrobe store for Snow White and the Huntsman for many months from 2011 into 2012.  This doesn't on the face of it seem the best use of a TV studio but I guess Pinewood's sales and marketing people knew best.
TV-two saw the return of Would I Lie To You every year from 2010 to 2020.  Lee Mack's All Star Cast was also made in TV-two in 2011.  In May 2012 I had the pleasure of lighting the very funny Angelos Epithemiou Show for Channel 4 in TV-two.  Another show I have regularly lit in TV-two is Taskmaster – the excellent comedy game show with Greg Davies and Alex Horne.  The studio sequences feature a beautiful Victorian Theatre set designed by James Dillon.  The first series was shot in an actual theatre, series 2 was recorded at Fountain but since 2016 every series has been recorded here.  The show moved from Dave to Channel 4 in 2020 – several more series have been commissioned.
Other bookings have included Duck Quacks Don't Echo, Insert Name Here and Through The Keyhole.  I was also privileged to light a special for National Geographic in April 2015 called  T-Rex Autopsy.  Following a year or more of research, a special effects company took many months to construct a life size T-Rex as if it had just died.  Its internal organs were painstakingly recreated and placed into the body.  Four experts (who had no idea what they would discover) spent 2 days cutting the beast open and removing all the major organs which were then dissected.  It was brilliant television and huge fun – although unfortunately, the corridors and toilets of the TV block ended up smothered in sticky 'blood'.  I did feel sorry for the cleaners.
Since the closure of most of TV Centre and TLS, bookings have understandably been busier here.  Sitcoms have included Count Arthur Strong and  Birds of a Feather in TV-two, Brotherhood (which I lit) in TV-one and I Live With Models in TV-two.  Still Open All Hours was recorded in TV-one in 2016, 2017, 2018 and 2019.  Lee Mack's popular sitcom Not Going Out (another show I regularly lit until I retired in 2020) moved here late in 2017.  It had previously used Teddington, TV Centre, BBC Elstree and Elstree Studios.  A series was recorded under strict Covid conditions in 2020 – sadly it was completed a few weeks before Bobby Ball died.  More series are due to be recorded in 2021 and 2022.
TV-three
In December 2012 it was announced that Camelot would be leaving their 1,200 sq ft studio run by Arqiva – a few miles away in Chalfont Grove.  The National Lottery Draws moved into TV-one from January 2013 until a purpose-built studio and associated facilities were completed elsewhere on the Pinewood lot.  The old scoring stage (once used to record orchestral soundtracks) was converted into a TV studio and renamed TV-three.  The Lotto draws moved there in October 2013 but in January 2017 the BBC stopped showing the draw live on TV.  The set and lighting rig were therefore removed.
TV-three is much smaller than the other two studios but twice the size of the old Chalfont Lotto studio at 2,640 sq ft.  It has a dedicated suite of control rooms next to the studio and its own cameras.  These can be used for TV shows being recorded on other nearby stages.  The 7,500 sq ft F stage sits directly alongside TV-three and since fibre links were installed in the autumn of 2014, is able to share this gallery suite and TV-three's cameras for TV shows with standing sets.  The Richard Attenborough stage is a short walk across a roadway so TV-three's galleries might also be a practical alternative to using an OB truck for major shows in that huge space.  However, that stage is usually fully booked by features and is now part of Disney's empire anyway.
Investment and improvements have been carried out in the two main TV studios from time to time. The green rooms, dressing rooms etc. are all very smart. The studios themselves have relatively new air conditioning systems. In the summer of 2009 TV-two was given a new resin floor. TV-one had a new floor laid in 2012.
When they began operating as TV studios, TV-one and TV-two did not own their own cameras and VTR machines but hired them in on a daily basis when required.  This must have saved a great deal when setting them up and it also meant that less capital was tied up doing nothing when the studios were not actually recording.  In this way, Pinewood were able to charge less than some other studios when standing sets were used.
Pinewood, perhaps surprisingly, did not carry out a full HD installation in these studios at the same time as other studios around the country.  They had HD fibre cables installed in both studios and to and from the galleries and MCR but continued to hire in equipment when required.  They did eventually purchase 8 Sony HDC-1000/1500 cameras in 2008 and 2009 which were shared with Teddington.
In 2012 they at last carried out some serious investment here – constructing a new gallery suite at the front of the building at ground floor level taking over some offices and a green room.  These have quick and easy access to both studio floors.  (MediaCity Salford please note!)  At present there is one suite to service both studios – it is assumed that only one studio will be recording or transmitting at a time.  If both do need to be in use then either an OB truck can be used or the old galleries could be equipped with flyaway kit.
The new galleries opened in September 2012.  Many working professionals including me were asked their advice when the galleries were designed and they are now amongst the best in the country.  How refreshing, compared with one or two other recently built TV studios.
The old ground floor lighting control rooms have become camera and technical stores and the production galleries have become viewing rooms but as mentioned above could be used as temporary control rooms using flyaway kit if required.
TV-two was also given new lighting monopoles – the previous ones were very old and time consuming to use – there were actually three separate designs in use, each requiring different hand-held motors to raise or lower.  The very smart new ones were designed and built by German company MTS to Pinewood's specification.  They are a huge improvement.  (BBC S&PP bought 200 of the same monopoles for stage 8 at Elstree in 2013.)
It was at the time intended that after a few months, more would be purchased to equip TV-one but this didn't happen.  In fact, that studio was equipped with the old harp telescopes from Teddington studio 1.  Since 2020 the Teddington scopes in TV- one have been replaced with MTS ones as and when they become unserviceable.
Not surprisingly, with the loss of most of the studios at BBC TV Centre along with Teddington, Fountain and TLS, these studios have seen an increase in their use.
It is possible that eventually stage L or M will be equipped as another TV studio.  Alternatively, what may happen in the meantime is the construction of another suite of control rooms for these two studios, plus more dressing rooms and make-up facilities, making it much easier for both of them to be used on the same day.
In 2001 Pinewood purchased Shepperton Studios to form Pinewood-Shepperton.  Michael Grade remained as chairman.  The business with all its facilities and 36 stages became one of the world's premier film and television resources.  During 2006 the company began operating under the name of the Pinewood Studios Group and marketed the various stages and TV studios at Pinewood and Shepperton (and Teddington until it closed) as one operation.
In May 2004 Pinewood-Shepperton declared an intention to redevelop both sites and increase their film and TV studio space significantly over the following ten years, demolishing some old stages and building several new ones.  In April 2005 the company bought the lease to Teddington Studios when they went bust, thus saving them from closure.  This unexpected acquisition may have delayed some expansion in the TV side of the business at Pinewood itself.
In 2007 planning permission for the Master Plan was granted and work immediately began on a new entrance and gatehouse and some new buildings nearby.  The Queen opened the gatehouse on 2nd November. According to the Pinewood website at least three new film stages were planned (see the drawing below).
The 2007 plan indicated that the car park in front of the two TV studios was to be developed.  It looked likely that a 15,000 sq ft TV studio was to be built there.  Although it is unlikely now that a fully equipped TV studio will be built, this may eventually be the site for a new sound stage which could be used for TV production using the galleries nearby.  In 2010 a 'temporary' workshop building was erected that is likely to remain until the new stage is built.
In fact, the Pinewood Master Plan began its development in 2003 (although planning permission took several years to obtain) and the industry moved on significantly over the following decade.  Blockbuster feature films and big TV entertainment productions now demand very large stages which was not the case back then.  Towards the end of 2011 construction of a very large stage (initially referred to as T stage) commenced.  It was built on the area opposite stages L and M where the old H stage and some workshops used to be located.  It received its first booking in February 2012 (the feature film Les Misérables) and was officially opened and named as 'The Richard Attenborough Stage' in April 2012.  It was also used in 2014 for Star Wars: The Force Awakens amongst many other stages on the site.
The Attenborough Stage is an impressive 30,000 sq ft (203ft x 148 ft and 50ft high).  This is very large indeed – about half the area of the 007 stage but much larger than any of the other stages at the time.  It was intended for major TV entertainment shows as well as feature film production.  It has emergency exits and other facilities enabling a large studio audience to be handled if required.  It was more than twice the size of the largest TV studio in the country so not surprisingly Pinewood were looking to attract big live event TV productions.  No technical facilities were included – these would have to be supplied by an OB truck or derig facilities – or by using TV-three's nearby galleries.  The first TV show recorded here was The Love Machine – made by Princess Productions for Sky Living in July 2012.  Unfortunately, the stage does not appear to have been used for any other TV show but this is probably due to its regular booking by feature films.
On 15th March 2022 fire broke out on the Attenborough stage during the preparation of a set for Snow White.  Video posted on social media showed a tree (which was part of the set) on fire, which then spread to a thatched cottage alongside.   I have been told how it is believed the fire began but it's probably best not to repeat that here.  12 fire crews attended the blaze, which was described as very serious.  I have heard that one person suffered injury through smoke inhalation but cannot confirm this.  Fortunately, nobody else was hurt.  Perhaps surprisingly, no official comment has been made by Pinewood.  In April, it was noted that work was being done inside the stage to carry out repairs but the building itself did not appear to be seriously damaged, barring some smoke stains around vents and doors.  One assumes that the stage is now available once again.
At the beginning of September 2007 the Pinewood Studios Group surprisingly announced that they were considering purchasing the BBC Studios part of BBC Resources.  They spent nearly 1 million pounds on the bidding process but in the end the sale collapsed.  It seems that Pinewood were not prepared to take on the pension liabilities of the BBC staff.  Back in 2007 Ivan Dunleavy had announced that the company was planning to significantly increase the proportion of TV vs film at Pinewood.  According to the press, he stated…
'We are looking to achieve a parity with film in terms of revenue.  The UK TV market is large and diverse, we want to increase our share in it."  Dunleavy apparently said that the company could increase the revenue share from TV, which currently stands at 30%, to 50% over the next three years.'
This interesting statement probably reflected the company's declared interest at the time in purchasing BBC Studios.  It is likely that the purchase of the business would have been followed by the construction and/or conversion of several new TV studios at Pinewood.  The staff and much of the equipment would have been moved to Pinewood over the following 3 or 4 years (along with the BBC's regular programme bookings) enabling TV Centre to be demolished in 2013.  Of course, the purchase of the business fell through, and the total demolition of TV Centre did not happen – although only three studios remain.
Another story will also have affected Pinewood's plans to increase revenue from television…
In the summer of 2007 various rumours began to circulate widely, mostly from people associated with BBC Elstree, that EastEnders might be planning to leave Borehamwood and the BBC studios there sold off for redevelopment.  These rumours grew and indeed were reported in two or three newspapers.  According to press reports, Pinewood was the most likely site for the programme to move to.  Albert Square and its surrounding roads would have been reconstructed on the back lot here and three stages taken over and converted into television studios.  I gather that L and M were the ones earmarked, given their original TV-based design, plus R, which is next door.  Of course, a great deal of space would also have been required for prop and set storage and for offices and post-production suites.
The story was repeated in the press in March 2008 but was officially denied by BBC spokespersons.  They claimed that in the current economic climate it would not be possible to sell the Elstree site for the money they would be seeking.  Thus EastEnders would be staying where it was for the time being.  It seems that the BBC were hoping for £300m from the sale of that site which would almost entirely be given over to housing.  However, the crash in property values diminished the value of the BBC's Elstree studio site considerably so a sale became unlikely for several years.  Thus EastEnders remains at Elstree for the foreseeable future and major (very costly) investment has been made there to exterior sets and technical equipment.
Over the years, changes in tax laws have seen the fortunes of Pinewood wax and wane as movie-making is so easily influenced by production costs.  An uncertain period in 2005 was improved when the tax laws were made more encouraging in 2006.  However, the availability of cheap labour and facilities in eastern Europe affected the number of films made here in the following few years.  Things are now very different of course and the demand for studio space for shooting features and TV drama in the UK has never been greater.
Project Pinewood…

Evidence of the determination to see the long term success of the studios came on 15th November 2007 when Pinewood-Shepperton announced a proposed expansion of the site – taking up the fields on the opposite side of the road between the studios and the M25 motorway.  The scheme was to occupy a huge area on land already owned by the company and was certainly ambitious (although, once given a few moments' consideration – were they really serious about all this? I mean, seriously???  That must have been one hell of a brainstorming meeting.)

So – the plan as announced in 2007 was to build several permanent location sets to which film-makers would otherwise have to travel.  The published plans were genuinely quite extraordinary.  Proposed locations included Venice, an American university campus, streets in Vienna and Chicago, a UK industrial canal, a London street market, New York warehouse district, 'Lake Como', West Coast America, 'Chinatown' and even a medieval castle and a Roman amphitheatre.  Whew!  The cost of constructing all this to the kind of detail that would be convincing on an Imax cinema screen can only be imagined.  (What were they thinking?  Had these people never heard of bluescreen and CGI?)

Perhaps the most interesting/baffling part of the proposal was that these dwellings would be lived in by real people.  About 2,000 homes were to be included which would be available to buy or rent, so if you fancied living in a flat overlooking a Venetian canal or possibly in a New York slum you would be able to live your dream. 

One small fly in the ointment was that this land was designated Green Belt.  Another was, of course, the cost involved in constructing all these inhabitable but historically accurate dwellings.  However, perhaps the most challenging was what to do with all the people living in these properties trying to go about their everyday lives whilst movies were being shot all round them.

Not surprisingly, after almost a year of consultation the proposed plans were considerably revised.  As announced in September 2008 they then included large areas of open green space which would have been available for use by local residents and all the existing hedges and wooded areas would have been preserved.  The castle, Roman amphitheatre, Lake Como and Venetian canals had all disappeared from the plan.

This was now a somewhat more realistic proposal.  The site was to have a mix of 'filmable' streets with smaller private roads and cycleways behind the film sets for local inhabitants to use.  Someone had at last realised that people living here would still need to drive the car to work every morning.  However, this whole scheme was still a location facility – it didn't address in any way the shortage of sound stages available in the UK to make world-class feature films – which is odd, to say the least.

A final planning application was made in July 2009.  This was roundly refused in October by the local authority – largely because of the Green Belt issue.  A local campaign to refuse permission was started up and strong views were expressed.

A public enquiry into the development began on April 5th 2011 and lasted into May.  Pinewood were hoping that the 960 permanent jobs that would be created would help the application.  Also, that this expansion of facilities would help to maintain Pinewood's reputation as one of the top film studios in the world.

On 20th January 2012 secretary of state for communities and local government, Eric Pickles, announced that the application had been refused.  Unfortunately this decision came only a few months after the government announced that they were relaxing planning regulations in order to stimulate growth in the construction industry.  This created a loud backlash of many individuals and organisations claiming that the Green Belt was now under threat.  The government strongly denied that this was the case so had they allowed this application so soon they would have played straight into the hands of the protesters.  Unfortunately the timing was not good for Pinewood.

Pinewood did not choose to appeal against this decision so this scheme died but they immediately began working on another much more realistic and practical proposal.
For most of the first decade of this century the television side of the business was thriving and the two TV studios were kept very busy.  As the TV side of the business diminished towards the end of the decade the pendulum swung back towards the film side and the stages were busy all year round with features.  In November 2011 the government announced that it was extending UK film tax relief until the end of December 2015, which was excellent news for Pinewood and of course all the other British film studios.
2010 saw a considerable reduction in Pinewood-Shepperton's income from television, compared to film.  It fell from £11.3m in 2009 to £8.2m in 2010.  This decline continued in the first half of 2011 – but was offset by a big increase in revenue generated from movie production.  For much of this period the two TV studios were occupied by feature films and the studios at Teddington were relatively quiet.  The Pinewood management partly blamed the BBC and ITV for using their in-house studios more than before in a press statement.  However, more than half of all the entertainment programmes shown on BBC and ITV channels are made by independent companies who are relatively free to make their shows where they like and Pinewood has an interesting advantage over the other London TV studios in that it is technically a 'regional' studio since it is (just) outside the M25.  It therefore enables programme makers to tick that particular box if they have to.
In fact around that time several entertainment shows used film stages at Pinewood and Shepperton to record series such as Ant and Dec's Push The Button, The Whole 19 Yards, Got To Dance and The Love Machine.
Although Pinewood-Shepperton was seen to be operating successfully (total revenue in 2010 increased by 8%) in April 2011 an unexpected bid was made to buy the company.  This was from Peel Media, the company who own and run MediaCity in Salford.  They already owned 29.7% of Pinewood and launched an £87.8m takeover bid.  Two weeks later, Mohammed Al Fayed, former owner of Harrods, was also said to be considering an all-cash bid for the company.  On 27th April it was announced that Peel had increased its offer to £96m and this new offer was accepted by the directors of the group.  Michael Grade stayed on as chairman and Peel said that they would allow Pinewood to continue to operate autonomously.
Being owned by Peel gave Pinewood greater financial stability which enabled long term investment to begin.  Previously, the company had to pass a large proportion of its profits to a number of shareholders leaving relatively little for major investment.  Peel seemed to be looking at Pinewood in the long term enabling the immediate construction of two new large stages and some welcome investment in the two main TV studios and throughout the whole lot.  I can report that most of the buildings became clean and freshly painted – and old cables, pipes and other clutter were removed giving a much smarter appearance all round.
In July 2016 it was announced that Pinewood had agreed to a takeover by Aermont, a London based asset management business.  The deal was backed by Venus Grafton, a wholly owned subsidiary of PW Real Estate Fund III LP.  No, me neither.  My understanding (sketchy though that may be) is that this new owner would be able to fund the continuing expansion of the site – which was probably therefore a good thing.
Although the 10 year Master Plan was published by Pinewood in 2004, by no means did all of the proposed development actually happen. Of course, the studios have a smart new gatehouse (curiously with the security hut on the wrong side of the road), the Richard Attenborough stage opened in 2012 and Q stage in 2013 but most of the other redevelopment on the main site did not happen until 2020, when the ground preparation and construction of 5 new stages was at last begun.  But let us not get ahead of ourselves.
The Q stage was constructed during 2012/13 in the south dock area replacing a 16,700 sq ft silent stage and some offices and workshops and opened in September 2013.  It has its own very large workshops and office areas included as part of the development.  It is in a part of the site that was earmarked for development in the Master Plan so planning permission was already granted.
Following the rejection of 'Project Pinewood' in January 2012 which would have been on land owned by the studios on the other side of the road, (see above), in August 2012 Pinewood announced that it would submit a new planning application for major development by the end of the year.  In fact the application was made on Feb 1st 2013.
Consultation took place with local residents during the autumn. The proposed expansion recognised the fact that over the previous few years most of Pinewood's stages had been fully booked and work had been turned away.  They could at that time only handle two feature films at the same time and this sometimes also meant that TV work had to be turned away.  The aim was eventually to be able to handle four features plus more TV work.  Pinewood would also have been aware that Warner Bros' new studios opening in 2012 at Leavesden had taken the crown from Pinewood in offering the newest and some of the largest stages in the country.
The new development was much more practical than Project Pinewood and appeared to be more aware of the environmental consequences of building on Green Belt land.
The plans indicated several new stages on the existing site (indicated in white).  One is the large Q stage that opened in 2013.  Another is in front of the two TV studios and was also shown on the 2004 Master Plan.  However, in 2023 this was still occupied by 'temporary' workshops.  The white building indicated behind the TV studios has now become the Z stage.
A third new stage is shown in the area of car park 1 next to the D stage.  In 2020 it became clear that in fact a much larger building containing 2 new stages was to be built there.  These became stage X and the Sean Connery Stage.  Similarly, a new building is also indicated next to E stage and in fact the site was cleared in 2019, losing the old Process Stage, but this area seems to be intended as a base for unit vehicles.  In 2019 another area was cleared on the North Dock area of the site next to Q stage – this is not indicated on the plans above, but is part of the site of 2 more stages, (V & W) that opened in September 2022.
A multi-storey car park was also planned on part of the Northern car park near the main entrance.   Unfortunately, it was not until December 2022 that Pinewood at last announced that they were actually intending to construct this in 2023.  According to Pinewood's website, the existing car park with 370 parking spaces will be replaced with a multi-storey car park providing 830 spaces.  About time too!  As one of many people who have worked at Pinewood over the years, the amount of time wasted trying to find somewhere to park, followed by a very long walk to the studio is an annoyance I could have done without.
Permission for the whole scheme was refused by the local council but a public enquiry began in November 2013 following an appeal by Pinewood.  The government announced in June 2014 that permission had been granted in the national interest.  A formal planning application for the first phase of development was made in October and was passed later in the year.
Incidentally, no new-build TV studios were proposed, but in October 2014 fibre links were installed between the galleries of TV-three and F stage (100 x 76ft wall to wall), which is in the same block.  Weekend Kitchen With Waitrose for Channel 4 was the first booking to use these.  It is not known when if ever the stage will receive a TV-friendly resin floor and a flexible lighting grid.  To be honest, this seems unlikely.
Significant development has now happened on the land on the East side of the road.  The original plans indicated that 10 large or very large stages would be built there, along with a number of workshops, production offices and support facilities.  In fact, 9 stages have been built.  The original plans also indicated that some of the stages would have a 'city street' set built into them enabling scenes to be shot on site that would otherwise involve closing off parts of a real city centre – a feint echo of Project Pinewood.  However this does not appear to have happened.
A large area of natural open ground including a wooded hill has been retained for the use of local residents along with a wide green border containing footpaths round the perimeter.  A grass bund conceals much of the site but in fact, some of the new stages can be seen from the M25 near the junction with the M40.
This new expansion was known as the Pinewood Studios Development Framework (PSDF).  In March 2015 Pinewood announced that they would be selling 8 million shares to raise £30m to go towards funding the development.  The rest was loaned by four of the major banks.  Phase 1 was said to cost £65m.
The first phase of construction was completed in June 2016 and consisted of five new stages: stage 1 – 24,700 sq ft; stage 2 – 24,700 sq ft; stage 3 – 34,400 sq ft; stage 4 – 24,700 sq ft and stage 5 a whopping 38,800 sq ft.  Phase 1 also included 10 new workshops and some production offices.
In October 2017, stage 5 was renamed The Roger Moore Stage.  An excellent idea in my view.  Roger had visited Pinewood in September 2016 to pay tribute to the studios in their 80th year. He had an office at Pinewood for decades and of course starred in many of the Bond films that were made here.  Sadly he died in May 2017 aged 89.
The PSDF was intended to be tackled in three phases – the total cost estimated at £200m. Each phase was due to take around 5 years but Phase 2, consisting of four more stages plus workshops, offices etc began to be constructed in September 2018 and was completed by the end of 2019. Stage 6 is 25,250 sq ft, stages 7 and 8 are 27,500 sq ft and stage 9 is 10,500 sq ft.
In September 2019 Pinewood announced that Disney had signed a long-term lease for ALL their stages, not just the new ones on the eastern lot which they had occupied as soon as they were available.  The press announcement stated that 'a number of TV studios' were not part of this deal, which was a huge relief to many TV production companies.  The deal was announced just a few months after Netflix announced a similar arrangement for all the stages at Shepperton.
In October 2020, planning applications were made for even more stages, representing phase 3.  One was for a 40,000 sq ft temporary stage on the East Lot to be erected on land near stages 1 and 2, opposite the main entrance.  There was also an application for four permanent stages to be built on this same patch of land, following the removal of the temporary stage.  I gather that the temporary stage was dismantled in the autumn of 2021.  Although planning permission was granted, the new permanent stages have not yet been built.  In fact, Pinewood will be using this area as a temporary car park while the new multi-storey car park is constructed over the road.  They sought temporary planning permission for this in December 2022 to last for 2 years.  One assumes they will then construct the 4 additional stages, as planned.  These could therefore be available in 2026, but by then the 21 new stages on Pinewood South will be open so I guess they may not be needed after all.
Meanwhile, as mentioned above, on the main site five new stages have been constructed during 2021 and well into 2022.  Two are on the area previously used as a car park next to D Stage, opposite the canteen (known as plot 1.03).  Another building contains two stages on the edge of the main site between Q stage and the L & M block (North Dock site).  Yet another stage is located between TV-two and the Richard Attenborough Stage (Plot 1.04).  Most of these new stages have involved the loss of several workshops and other facilities.
The two stages near the canteen were originally to be named X & Y but in August came the good news that the Y stage would be named The Sean Connery Stage.  An excellent decision!  On 28th September 2022 Pinewood celebrated 60 years since Dr No was made at the studios and the Connery Stage was officially opened.  Members of his family attended, along with various cast and crew from the films.  Bond's famous Aston Martin DB5 was on display inside the stage.
The two stages between Q and L are V & W, and the one near the 007 stage is Z.  They were all officially declared to be available from September 2022.
According to the drawings on the local council's planning website, the new stages are as follows: V – 196 x 152 ft (30,000 sq ft);  W – 137 x 131ft (18,000 sq ft);  X – 157 x 112ft (17,600 sq ft);  Y – 127 x 119ft (15,100 sq ft);  Z – 158 x 112ft (17,700 sq ft).
Screen Hub UK
In September 2020 Pinewood announced another very significant expansion.  They were planning the construction of a 'Screen Industries Global Growth Hub' costing £450m.  This would be located on 77 acres of land to the south of their main site alongside Pinewood Road.  It was to include a 350,00 sq ft visitor attraction called 'Pinewood Studio Experience'.  The same company that designed the excellent Warner Bros Harry Potter Experience at Leavesden was to be involved in the design of the attractions.  One assumes it would feature the most famous films made at Pinewood including the Bond and Marvel franchises and possibly, as a contrast, the Carry On films.  (Perhaps slightly less popular with tourists from overseas.)
There were also going to be additional film production facilities (including 6 stages, workshops and a new back lot), an 'educational training and skills hub' run by the National Film and Television School and a 'creative industries business growth hub'.
Pinewood claimed that this scheme would provide 3,500 new jobs, add £355m pa to the UK economy and £125m pa to the tourism industry.  Outline planning permission was granted by Buckinghamshire Council's Strategic Sites Planning Committee in December 2021.
However, in April 2022 Pinewood released the following statement:
'A planning application is being prepared for a variation in the scheme which provides more studio space, carries forward Centre Stage and holds the visitor attraction as an option.

A related application is also proposed for an open-air filming space (known as backlot) with supporting workshop buildings, landscaping and associated parking on part of Alderbourne Farm land owned by the Studios.  The scheme also includes a proposal for the majority of the land at the farm to be used for the creation of a nature reserve with public access.'
Not surprisingly, following the announcement of the original scheme there had been considerable concern from local residents about the traffic that would be generated on local roads if the visitor attraction went ahead.  One can imagine that a large number of cars and coaches would have come to see the exhibition – as they do at Leavesden for the Harry Potter Studio Tour there.  So in April it looked as though this ambitious idea may have been quietly dropped or at least reduced in scope in favour of yet more stages and workshops while retaining the very important training element of the scheme.
The planning application for the revised scheme at Pinewood South was submitted in July 2022.  (Still referred to as 'Screen Hub UK' in press releases.)  The visitor attraction had indeed gone away.  There will now be 21 more stages between Pinewood Road and Black Park along with workshops, offices and car parks.  The skills and training facility previously mentioned has been retained.  This will be run in association with the NFTS along with a 'Business Growth Hub'.   Together they will be called Centre Stage.
To the north of Pinewood East – between that and the M25/M40 motorway junction – at Alderbourne Farm around 64 acres of land will be converted into a nature reserve with public access.  There will also be two new back lots with associated workshops, some converted from existing farm buildings.
The press release states that this will bring the total number of stages at Pinewood to 51, although I confess I'm not sure how they arrive at that figure.  I reckon there are 20 sound stages on the original lot and 9 on the East Lot making 29 in total.  So along with the proposed 21, that comes to 50.  Maybe they are including the underwater stage.  In any case, this will make Pinewood the largest film studio in the world.  (Qingdao in China is currently the largest studio complex, with 40 sound stages.)  Also, of course, they have planning permission for 4 more stages on the East Lot, that may be constructed in due course.