from July 2021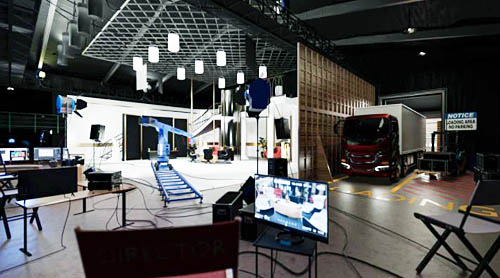 In July 2021 yet another new film studio in London was announced.  It is in Mill Hill, 5 minutes from the M1 and 8 minutes from the North Circular, according to their website.  It is known as London North Studios and is managed by a company called Purpose.  The first production to film here in the summer of 2021 was a drama for Sky.
This is another conversion of some industrial premises – in this instance it was the former HQ for the Jehovah's Witnesses organisation.  (Make up your own joke about ringing their doorbell.)  It was where their magazine The Watchtower was printed and distributed so it contains several large structures suitable for use as film stages.  Technically of course, these are better described as 'build spaces' as they don't have the normal things found in a purpose-built film stage such as high quality sound-proofing and deadening and a grid with easy access, suitable for suspending lights and scenery.  However, many features and TV dramas have been filmed in premises like this so it is by no means a serious limitation.
The stages on offer are as follows and are called 'studios' by them:
studio 1 – 13,700 sq ft
studio 2 – 8,600 sq ft
studio 3 – 6,200 sq ft
studio 4 – 8,600 sq ft
studio 5 – 5,300 sq ft but with a relatively low ceiling so probably more use as a prop/wardrobe store.
As well as plenty of office space, the studios also have a 300-person dining hall, commercial kitchen and 18 hair and costume rooms, as well as five acres of outdoor space, including an acre of woodland.  There are also several other areas described as 'multi-purpose event spaces for conferences, art exhibitions, dining experiences, rehearsals, theatre, and more.'
These studio offer plenty of space and would seem ideal for a high-end TV drama requiring lots of permanent sets to be based here.