1951 – 2010;  2018 onwards
(the studios did not accept bookings between 2010 and 2017 but are now in use again and look to have a secure future at last!)
(Revised November 2021)
Bray studios will forever be associated with Hammer horror films but those were only a relatively small part of the studios' history.  Although set up as a film studio, after a while the stages were being used used to make a number of TV dramas and in latter years some multicamera sitcoms, a kids' gameshow and a lottery gameshow for the BBC.  They were also a favourite location for bands to rehearse tours.  Famously, on one occasion in 2007, David Gilmour was in one big stage and Roger Waters was in the other with his band.  They met, inevitably, and rather uncomfortably, outside one day and the encounter was filmed.  (Watch it on YouTube).  Although they had performed a couple of years before when Pink Floyd were reunited for Live 8, this filmed conversation demonstrates quite nicely that their relationship remained somewhat frosty.
But – back to the beginning.  Down Place, a distinctive mansion beside the Thames between Windsor and Maidenhead, was owned by one Jacob Tonson.  He, by the way, formed the 'Kit-Kat Club' which had nothing to do with chocolate bars.  The club didn't meet here, despite what you might have read, but in Tonson's London residence.  The house was a private dwelling until 1951 when one wing remained privately occupied, as it still does.
The house consisted of several parts – the original square shaped house built early in the 18th century – seen on the right in the photo below.  Then later that century a long wing was added facing the river, containing a ballroom.  That is the façade with the curved porch on the left in the photo below.  Another wing extends away from the river further left – that is still occupied as private dwellings.
Other outbuildings were added and joined up with the original stable block to form one large mansion.  Its design included castellations along the roof line.  These were ultimately its downfall.  Rather than a conventional gutter, rainwater has to run along a channel behind the top of the wall, which can easily become blocked.  This caused many leaks into the attic and down the internal walls over the years as the house was poorly maintained by all its owners.  The roof itself also had many loose slates and one quick fix was to paint them all with a sealant, rather than re-slating it.  Unfortunately, this prevented ventilation in the attic and dampness led to rot and infestation.  To add insult to injury, it transpired that the render on the external walls was non-porous – thus trapping the damp inside.  Thus in 2016 the house was stripped of all its internal finishes down to bare timber and brick in order to reveal the extent of the damage – which was considerable.  However, we are getting ahead of ourselves…
To go back a few years before the beginning of film-making here in 1951…
Hammer Productions Ltd was created in 1934 by an ex-actor, William Hinds, who called himself Will Hammer.  Hinds was part of a comedy double-act paired with a bloke called Smith – they lived in Hammersmith, hence 'Hammer and Smith.'  The Hammer name stuck.  He was a member of the family who became famous for their High Street jewellery shops and he later became the chairman of the Goldhawk Building Society.  No, really.  He also managed a few theatres and sold bicycles.  I'm not making this up.  The first Hammer film was The Public Life of Henry the Ninth ('35).  I'm sure we all remember that one.
In 1935 Will Hammer paired up with one Enriqué Carreras.  The pair of them established 'Exclusive Films.'  Some of their movies were under the 'Exclusive' banner, others were 'Hammer' films.  In 1938 Enriqué's son James joined the company.  A little later, Will's son Anthony joined the company too.
After the war they began making cheap quota quickies (these have featured in the history of studios throughout this website).  They made a film called Dick Barton, Special Agent ('48) which was based on a BBC radio series.  Realising that this might be a rich seam of possible movie titles, in 1949 they formed a new company to exploit this new direction – Hammer Film Productions.  For the next few years they made low-budget films based on popular radio shows like The Man in Black ('50), A Case For PC49 ('51) and Life With the Lyons ('54). 
They decided to make these low budget films in large houses rather than renting costly studios.  The first one was in Dial Close, Cookham Dean, near Maidenhead but the neighbours were not impressed so they had to move on.  The next property was Oakley Court, a Victorian gothic mansion beside the Thames between Maidenhead and Windsor, to which they would return in future years.  The owner was still in residence but lived in a few rooms and let them have the run of the rest of the house.  The Man in Black ('50) was made here.  They made two or three films here and also in a house in Harlow, Essex.
In 1950 they filmed a few scenes of The Dark Light in Down Place, which was in effect next door to Oakley Court, although a few hundred yards up river.  The house was almost derelict – it had been used to store duffel coats during the war (many were still there) and parts of the floor had collapsed under the weight of all that damp duffel.  The owner was living quietly in one wing, separated from the rest of the house.  Nevertheless, Down Place proved to be perfect for their needs so in 1951 they took out a one-year lease on the property.  Cloudburst ('51) was the first Hammer film completely made here.  In fact they liked the house so much that in 1952 they took over the freehold.
They named the place 'Bray Studios' after the nearby village (famous for its vicar, its riverside homes where several celebrities have lived over the years and its two Michelin 3-star restaurants. The restaurants came later by the way.)  Everything here was very, very basic but a team spirit soon evolved that would last for years.  Actors too loved working here – in interviews in later years, all seem to mention the close family atmosphere surrounding Bray.
When Hammer first started using the house for filming they numbered some of the rooms just like stages – A, B, C, D, E, F & G.  Most of course were relatively small and with low ceilings, making lighting and boom operation very tricky.  In fact it was not uncommon for the boom op to be standing outside, poking his rod through the window as there was no space in the room for him to stand. 
Stage A was the entrance hall next to the ballroom (painted a striking pink colour in later years) – more of a large room than a hall to be honest.  E and F were the rooms on the first floor with the curved window walls facing the lawn in the oldest part of the house.  They later became offices.  Stage G was a room in the old stable block, facing the central courtyard.  It was later used for storage.
Stages B, C and D were the three rooms including the ballroom that faced the river on the ground floor.  In 1953 they decided to knock these three into one.  This created the 'ballroom stage' or stage 'B-C-D'.  It was 110 x 25 ft.  A decent length but rather narrow and of course with a relatively low ceiling compared with a purpose-built stage.  When the new big stage was built in 1957 this became stage 3.  It was used for many scenes in famous films including Dracula (the inn where Peter Cushing arrives in the village), The Revenge of Frankenstein, The Mummy and several others.  In fact, if you see a long, narrow set with a low ceiling in any early Hammer film it was probably shot on this stage.  It was seriously damaged by a fire in 1961 but was rebuilt with a slightly higher concrete ceiling.
The rooms used as 'stages' were no longer required use once proper stages were built in the grounds but the ballroom stage was used up until the late 1970s.  It then became a viewing theatre.
Also in 1953 Hammer built their first actual sound stage – it was a modest 45 x 40 ft but it had a grid height of 18ft which was a luxury in that at last they could light sets from above.  It was built of brick, which meant that they could use fire SFX within it relatively safely.  It had a small tank 10 x 8ft and only 4ft 6in deep but this extra depth was useful in some sets.  The stage was built between the wings at the front of the house where a circular driveway had originally led to the entrance.  (In other words, the opposite side from the river.)  Known early on as stage 2, it changed its number several times over the years but remained till 2010 when it was known as stage 4.  In 2018, when the studios reopened it was renumbered stage 3.
It's worth pointing out that many of the staircases and corridors and other rooms in the house were used at some point for filming scenes in Hammer's horror films.  The exterior walls and doorways too were dressed as various old houses, inns and castles.  Perhaps surprisingly, the only part that wasn't used as a filming location was the spooky looking cellar.
(Thanks to Wayne Kinsey's excellent book 'Inside Bray Studios' for much of the above information.)
Frankly, Hammer was not doing too well making its quota quickies and radio adaptations.  Just about keeping its head above water but that was about it.  Then in 1955 Hammer secured the rights to make a movie version of TV sci-fi series The Quatermass Xperiment.  
Quatermass was phenomenally successful and was followed up in 1956 with Quatermass II.  They realised that horror might be the way to go so made The Curse of Frankenstein ('57) –  their first colour film.  For the next few years they revelled in blood and gore with films like Dracula ('58), The Hound of the Baskervilles ('59), The Mummy ('59), Curse of the Werewolf ('61), The Damned ('63), Kiss of the Vampire ('63) – well, you get the idea.  Most of these films starred Christopher Lee and/or Peter Cushing.  These movies used every inch of Down Place which was dressed and redressed for each title, whilst other sets were built on the stages.  The exterior set on the back lot was also used for many a graveyard, ancient village or ruined castle.
Despite the popularity of many of their films, the business itself never did that well.  In 1955 Bray Studios were in trouble.  They cut their regular staff to 60 and started to rely on outside companies to book their facilities.  They considered selling the studios but the modest success of each horror film as it came out just about rescued them from disaster.  Their US distributors Columbia purchased a 49% share in the studios in order to save them from closure.  This investment enabled Bray to build their third and largest stage in 1957.  This was of course a terrible time for the British film industry in general.  Cinema audiences were plummeting and the creation of ITV in 1955 made things even worse.  Why would people pay to go to the 'pictures' when television provided such great entertainment at home for free?
In 1956 the first TV production was filmed at Bray.  It was The Errol Flynn Theatre and was made not by Hammer but by Motley Films Ltd, although the credits state 'An Inter-TV Production.'  25 half hour episodes were made it appears, all in one year.  They were aimed at the American market but were also shown by the new ITV companies.  Errol Flynn himself played the lead in every fourth show but they also starred many leading movie actors including Christopher Lee (of course), Glynis Johns, Leslie Phillips, Herbert Lom, Mai Zetterling and many others. Interestingly, the first in the series (Evil Thoughts) was actually filmed at Walton Studios in 1953 as a pilot for a similar series that was never commissioned.
Despite the fragility of the company's finances, by 1956 it was clear that they needed more room at Bray.  Part of The Abominable Snowman had to be filmed on stage D at Pinewood as there was no suitable space at Bray and so in 1957 they constructed a new much larger stage which became known as stage 1.  It was 90 x 60ft (according to Kinematograph Weekly).  There are some reports that this stage came from Walton Studios – but this is not correct.  The confusion appears to have arisen because the later stage 1 at Bray came from MGM Borehamwood but prior to that it had been located at Walton as their stage A.  Anyway, we will come to this in due course.
Stage 1 was built where the final stage 2 stood, but was somewhat smaller with a lower grid.  Nevertheless, this stage enabled much more sophisticated and impressive sets to be built, elements of which were adapted and re-used for several films in order to save money.
Around 1961, Hammer built another stage – stage 4.  It was probably built quickly to replace Stage 3 (the Ballroom stage), which had been destroyed by a fire.  This was a rather basic looking construction faced in corrugated iron but was still standing in 2010.  (It has since been demolished.)  It was 71 x 36ft so not large by any means but very useful for sets such as various domestic interiors, cells, inns and the like.  Apparently it was favoured for dungeon sets where rats were involved as the escapees could do less damage than on the other stages.  It also had a 4ft 6in deep tank that was 10 x 8ft.
So by December 1962 (according to Kinematograph Weekly) they had the following: stage 1 – 90 x 60ft; stage 2 – 45 x 40ft; stage 3 – 110 x 25ft and stage 4 – 71 x 36ft.
The back lot was to the left of the main entrance in the lane leading to the studios from the Windsor Road (confusingly also called Down Place) – where the newest brick-built stage was located in the latter years of Bray.  There were three main sets over the years that were used many times over.  The first was the exterior of Dracula's castle which was built in 1957.  This was re-dressed and used for several films including The Revenge of Frankenstein and The Hound of the Baskervilles.
In 1960 this was struck and a village square was built for The Brides of Dracula.  This square was enlarged bit by bit and a second square added to it.  It became very elaborate indeed with loads of convincing detail.  It could be a generic mid-European town square or a medieval English village with a bit of re-dressing.  It even became a Chinese dockyard in Terror of the Tongs.  (No, me neither.)  Eagle-eyed Hammer fans can recognise familiar archways, roof lines and windows in most of the films shot around this time but the sets were so detailed that most viewers would have completely accepted that they were real.  Other sets were squeezed in around the village square when required, occasionally spreading into the adjacent field. 
In 1965 the village square set was replaced with an exterior castle set for Dracula, Prince of Darkness.  This was transformed into a gothic house for Rasputin the Mad Monk and then became part of a village and graveyard for Plague of the Zombies and The Reptile.  Don't you just want to rush off and watch all these glorious titles now?!!
The back lot sets were cleared in 1966 when Hammer left Bray.
This is a plan of the site in 1966.  Down Place is at the top – the ballroom stage (3) was within the long wing of the building across the top with the curved section.
Stage 1 is the large block in the centre of the site – a larger stage would be built here in 1973.
The rectangle to the south of stage 1 was stage 4.  Stage 2 was the square shape tucked up by the house.
The row of buildings running down the top left of the site contained the restaurant, star dressing room, production offices, toilets, a general store, sound maintenance and the powerhouse.  These were demolished in 2016.
Exterior sets on the back lot were built in the area at the bottom of this plan.
In January 1964 ABPC became co-owners along with Hammer and Columbia.  This was a curious deal.  Hammer remained effective owners but they had agreed that they would henceforth make all their films at ABPC Elstree, unless those studios were full.  Bray thus became a sort of overspill site.  The studios were mothballed for much of 1964.  None of Hammer's six films in 1964 was shot at Bray.  It was used for a couple of films made by Bill Luckwell but the studios were proving a financial millstone.  They reopened in March 1965 and Dracula Prince of Darkness was the first of seven films made by Hammer between '65 and '66 plus two produced by Harry Alan Towers (see Highbury Studios for more info on him).  The first four films in 1965 were shot back to back and shared several props and sets which were redressed for each film.
In 1965 Hammer also took over the Victorian gothic mansion Oakley Court.  (You will remember that they first used it as a filming location in 1950.)  This was a few hundred yards along the river from Down Place.  I have not been able to establish whether this was a lease or possibly a number of short term rentals whilst the property was unoccupied.  (The previous owner had died a few months earlier and the house remained empty until 1979 when it was converted into a luxury hotel).  Oakley Court looked even more the thing for making horror films than Down Place and several used the house such as The Reptile ('66), Plague of the Zombies ('66) and And Now The Screaming Starts ('72). 
However, other less chilling films also used this property including The Rocky Horror Picture Show and – rather surprisingly – Tommy Steele's Half A Sixpence.  Some accounts state that the original St Trinian's films used it too but to be honest the dates don't fit, the house doesn't look the same and none of the official location guides mention Oakley Court.  In any case, for many films that did use it, it is likely that the exterior and the extensive grounds were used more often than the interior – Down Place was still more suitable for interior shots.
The brief resurgence in Hammer's filmmaking at Bray did not last and the last Hammer horror film made here was The Mummy's Shroud, which wrapped in October 1966.  They continued making films but used Elstree.  Hammer left Bray in November.  They retained ownership of the studios but for the next four years just used them for some effects photography on a few films.
In 1970 the studios were used for two significant movies – John Schlesinger's Sunday Bloody Sunday and Ken Russell's The Music Lovers.  Bray was still owned by Hammer at this time although the company itself was nowhere to be seen.  However, many of the former crew members worked on those films.  They used the three main stages – the ballroom stage was occupied by FX work on When Dinosaurs Ruled the Earth.  The set on the back lot was long gone but the prop stores had various familiar items lying around, left over from classic Hammer horrors.
In November 1970 the studios were sold to Redspring Ltd for £65,000.  That wasn't very much even then.  They originally planned to demolish the stages and build housing (sound familiar?) but fortunately changed their minds.  The studios were renamed 'Bray International Film Centre.'  The old stage 1 was demolished and replaced with a larger one opening in 1973.  I have been told that this was because the old stage 1 had been 'gutted by fire' but I can find no other record of this.  Can you help?
Above is a plan of the site from 1976.  (NB: F, G, H & I were all demolished in 2016.)  According to this marketing brochure, the studios had been 'largely rebuilt' during the previous four years.  This included the new stage 1 which was 10,200 sq ft (120 x 85ft.)  This stage was taken from another film studio – it had previously been stage 10 at MGM-British Studios in Borehamwood.  Those studios had closed in 1970 but were bought in 1973 by Christian Salveson who used some of the old stages for storage and demolished the rest.  However, this one was dismantled and re-erected here so was the only one saved.
In fact this stage had moved before – in 1962 it was dismantled at Walton Studios when they closed and re-erected at MGM in 1963.  It was probably originally built at Walton soon after the war.
Confusingly, the stage numbering changed at this time – with the stages being re-numbered in descending order of size as can be seen on the drawing above.  Some time in the late '70s the ballroom stage (4) was converted into a viewing theatre.  The 1976 brochure boasts that the studios had:
Four sound stages, three tanks, eight cutting rooms, nine dressing rooms; theatre and sound department; fourteen offices, penthouse production suite; two art departments; workshops for painters, plasterers and metalwork; wardrobe, hairdressing and make-up; props store and camera store.
Some significant films were shot at Bray during the 1970s and into the '80s including Pope Joan, The Hireling, Agatha, Loophole and The Rocky Horror Picture Show.
The early '70s also saw the site being used for effects work on Dr Who and between 1973 and 1975 Bray was booked by Gerry Anderson for SFX work and miniature shots on his series Space 1999.  Brian Johnson was the HoD of the team.  They used the ballroom stage and stage 3 (Hammer's old stage 2 – the square one close to the house) as shooting stages.  The prop store between stage 3 and the house was the main workshop.  Other sheds around the site were also used as workshops and for storage.  Live action scenes were filmed at Pinewood on stages L and M.
1975 was the year in which the rather curious Anglo-German sci-fi series Star Maidens was filmed.  I have read that they used some props and sound effects 'borrowed' from from Space 1999.  I assume Gerry was asked.
In 1977 the impressive model shots for the first episode of the BBC's Blake's 7 were shot at Bray.  The sequence was so impressive that they blew the entire series budget on it.  The FX shots on later episodes were shot by in-house cameramen on a shoestring and were said to be somewhat less spectacular.
Bray seems to have become well established around this time as a centre of excellence for special effects work.  In 1978, Ridley Scott's movie Alien took over the site under great secrecy.  Stage 2 (the corrugated iron one in the middle of the site) was the model shop and stage 3 (Hammer's old stage 2, next to the house) was the shooting stage.  The impressive exterior shots of the Nostromo spacecraft were filmed here, as was the atmospheric landscape of planet LV-426 where the wreck of the strange crescent-shaped spacecraft was discovered.  This very convincing model took up the entire stage.  The sequence where John Hurt rather foolishly looks into the egg and we see movement inside it was also shot on this stage – or at least, the closeups of the egg were.  Ridley Scott's own hands were inside the 'gloves' that formed the embryo alien in the translucent egg – he knew exactly how he wanted it to twitch.
Between 1983 and 1984 Gerry Anderson's Terrahawks was the next TV show to occupy space at Bray.  This was his first puppet series since the Supermarionation days of the 1960s on the Slough Trading Estate.  The puppet scenes and special effects for all 39 episodes were shot here.  The SFX stage was stage 3 (yes, the square one next to the house) and the puppet stage was stage 2 (yes, the corrugated iron one in the middle.)  (Don't blame me for the confusing numbers!)  The old ballroom stage was by now a viewing theatre and was used as such by the production.  The SFX team was a mix of experienced and new, young craftsmen.  This show was excellent training for all of them, who went on to great things working on major blockbuster movies.  Stage 1 was mostly used at this time for filming commercials or for bands rehearsing for tours.
In 1984 the studios were bought by Samuelson's who shortly afterwards built a brand new large stage (see below).  Movies in the 1980s included The Sea Wolves, Dead Man's Folly, A Month in the Country, For Queen and Country and Hope and Glory.  TV drama included Paradise Postponed, The Manageress and Inspector Morse.
Some of the acts for the 1985 Live Aid concert rehearsed at Bray – in fact a large number of world-class bands and solo artists used the relative privacy of stage 1 or 2 to rehearse their tours over many years.  The two main stages were an ideal size to erect the set and lighting rig to be toured.  Bray Studios are ideally situated only a short drive from Heathrow and London and with excellent hotels and world famous restaurants nearby.
Ian Hall has written to me.  He worked at Bray around 2000/2001 and remembers seeing acts rehearse there such as Elton John, the Bee Gees, Lionel Richie, Kylie, Cliff Richard, Eric Clapton, Gabrielle, Anastasia, Westlife, Craig David and Robbie Williams.  Robbie's video for Rock DJ was filmed on stage 2 and the fire scene in Supreme was shot in the car park in front of stage 1.
Ian also recalls that the condition of the stages and other facilities around that time was pretty ropey.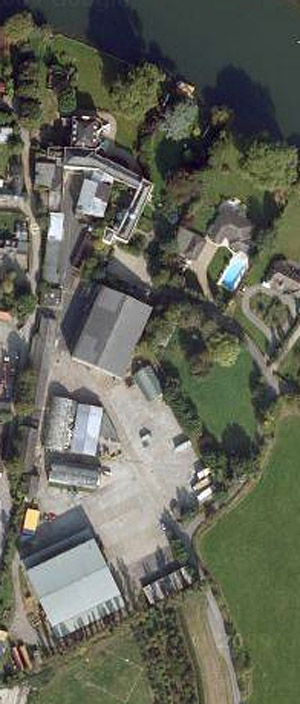 According to the 1983 BFI Yearbook, Bray then had the following: Stage A – 10,204 sq ft; B – 3,003 sq ft and C – 1,883 sq ft.  These sizes do not quite tally with the ones quoted in the 1962 yearbook and numbers have oddly become letters.  This may have been an error by the publishers of the Yearbook.  Also, note that by then the ballroom stage had become a viewing theatre.
In 1985 the new large brick-built stage was opened.  It was roughly the same size as the existing stage 1 and was constructed on the land that in years gone by had been used by Hammer to build their exterior sets.  When it became available the numbering changed again, with it becoming stage 1.
A marketing brochure from that period kindly sent to me by Mark Elliott has the stages as follows:
Stage 1 – 113 x 91ft (10,283 sq ft), stage 2 – 120 x 85ft (10,200 sq ft), stage 3 – 71 x 36ft (2,556 sq ft) and stage 4 – 45 x 40ft (1,800 sq ft).
I think we can probably rely on these dimensions as being accurate.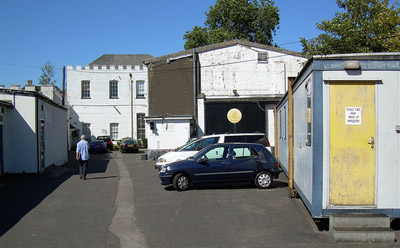 In 1990 the lease for the studios was taken over by Bray Management Ltd.  In July 1999 Broadcast magazine ran a story under the headline 'Bray Studios Saved From Closure.'  In it they reported that the studios had been saved 'for the next 15 years.'  In the article Peter Gray and his business partner Neville Hendricks are quoted as saying that they were looking to spend '2 or 3 million over the next five years on structural and facilities improvement to bring it into the 21st century.'
TV dramas and comedies filmed and/or based here in the '90s and noughties included Inspector Morse, Pie in the Sky, 99-1, Born and Bred, Demob, Dirty Tricks, Invasion Earth, Murder Rooms, Night and Day, Our Friends in the North, Forever Green, Gone To The Dogs, Jeeves and Wooster, Poirot, Roger Roger, Roughnecks, Ruth Rendell Mysteries, Sex Chips & Rock n' Roll, Soldier Soldier, Stick With Me Kid, Still Life at the Penguin Café (ballet), The Detectives, The Gentleman Thief, The Safe House, The Unknown Soldier, The Wyvern Mystery, Titmuss Regained, The Turn of the Screw and Murder Most Horrid.
At least two multicamera sitcom series were recorded here.  One was How Do You Want Me ('97, '99),  starring Dylan Moran and Charlotte Colman.  Far more controversial was Heil Honey I'm Home ('90), a spoof '50's-style sitcom in questionable taste depicting Hitler and Eva Braun living next door to a Jewish couple.  It was made for the ill-fated BSB channel Galaxy but only one episode was ever aired.  The rest of the series was never transmitted.  When Sky took over BSB they were appalled by the show and immediately scrapped it.  One of the camera crew told me that they were working on the final episode but were sent home at lunchtime before it was recorded.  Sky had just bought BSB and the series had been pulled.  So several unseen episodes may still exist somewhere.  The pilot (ep 1) was in fact made at Pinewood – that's the only one to survive.  I gather the old Tyne Tees Television OB scanner was used for facilities here at Bray.  They probably shoved it in the river when the show was scrapped.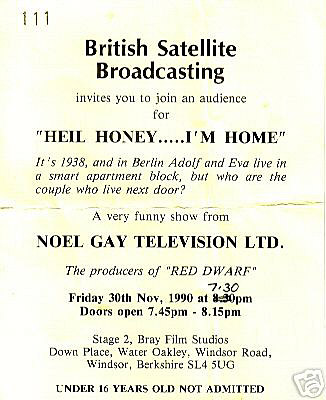 There was also a BBC1 lottery show – Red Alert.  Two series were recorded in 1999.  200 episodes of the CBeebies series Fimbles were made at Bray from 2001.  In 2003 Stage 1 was the home of  Inside Clyde, a kids' gameshow set within the internal organs of a human being called – er – Clyde.  It was presented by Tony Hawks and directed by the highly respected David G Croft who now lectures at the National Film and Television School in Beaconsfield.
The stages at Bray have often been used to shoot commercials.  One notable example was the 1998 Guinness ad with the surfer and the waves turning into leaping white horses.  The horses (from Billy Smart's Circus) were filmed against green screen on one of the stages here.  They were sprayed white, had extensions added to their manes and were trained to gallop up a slope and leap off the end, all whilst being splashed with water.  Hmm.  Let's hope they appreciated all the awards the commercial won – including 'Best Ad of All Time' in 2002.
Movies shot here since 1990 included The Witches, Edward II, Mojo, Velvet Goldmine, Captain Corelli's Mandolin, Reign of Fire, The Dark and (ahem) Ali G Indahouse.  Probably the last film made before the closure was some miniature and effects work for Terry Gilliam's The Imaginarium of Dr Parnassus in 2009.
On 16th January 1992 Stage 1 was the venue for the MTV recording of Eric Clapton's Unplugged concert.  The show was very successful and the subsequent album went on to sell more than any other in his career.
Sadly, in 2010 Neville Hendricks announced that the studios were no longer economically viable.  He said that bookings from films and TV had diminished in recent years and competition from larger studios such as Pinewood and Shepperton meant that they could no longer attract sufficient business.  He planned to renovate Down Place and live there with his extended family.  The stages and other buildings would be demolished and seven luxury houses would be built.  There was inevitably strong opposition to this – some people pointing out that it is the relatively small size of the site and its seclusion that has appealed over the years to so many film-makers and to bands who need to rehearse in privacy.  Twickenham studios – a similar sized site – was saved from closure in 2012.  However, despite a campaign to save these studios, on 3rd October 2012 planning permission was finally granted.
In a newspaper interview in 2010 Mr Hendricks explained that the stages and facilities were by then very old and needed 'millions' spent on them to bring them up to a reasonable standard.  He did possibly have a point – much of the site had had a dilapidated and seedy look to it for a number of years although I would question whether millions needed to be spent on the stages, particularly stage 1.  You could build brand new ones for millions – a few hundred thousand would have gone a long way to refurbish the existing ones.  However, the support facilities certainly did need some money spent on them.
It is worth pointing out that stage 1 was comparatively not very old and stage 2 had a bit of a history but was erected here in 1973 which compares very well with many film stages.  Studios like Ealing, Twickenham, Pinewood and Shepperton all have much older stages that are still in regular use.  A film stage is a very basic thing – a black box with a grid and some power.  It is not like a TV studio which is full of technical equipment that goes out of date.  A well-built film stage (like stages 1 and 2 ) can go on for ever.  In fact, many films and TV series are now being made in far less suitable facilities than this.  Old factories and leaky warehouses are frequently being used now due to the lack of available film stages.
Hendricks also explained that the old house needed a great deal spent on it to preserve it for the future.  That certainly is a point.  It had been very poorly maintained by all its owners over the years.  It is unlikely that he would have got his money back from renting studio space if he did spend millions doing up the old house and living in it himself.
So – bitter as it may seem – simple economics brought the studios to a close, although it is a shame he didn't appear to be willing to put the site on the market to see if someone else might make a go of it.  He did also appear to turn away work from 2010 onwards which could have kept the studios going for a few years longer whilst discussions continued over their future.
Thanks to attractive tax laws and the fall in the value of the pound along with the rise of Netflix, Amazon Prime and Disney+, the making of TV dramas and features in the UK is more popular than ever.  This has meant that many have really struggled to find film stages to hire and are now having to use unsuitable buildings such as empty factories and warehouses around London due to the severe shortage of available sound stages.
My guess is that if it had been put on the open market, an enterprising company or individual could have come in and refurbished stages 1 and 2 for a relatively small amount.  Some new dressing rooms/make-up facilities and production offices would have been needed for stage 2.  Stage 3 and the surrounding workshops should have been demolished and replaced with new workshops or a new medium stage.  (I wrote the paragraphs above some years ago.  Of course, in fact this has now happened – since 2020 a new soundstage has occupied the land where stage 3 and the old workshops once stood.)
The house, however, clearly needed some significant money spent on it.  In fact, following detailed structural surveys in 2008 and 2014 that discovered serious damage from rot, damp and wood-boring insects, the interior was completely stripped back to the basic structure of the building.  The old admin wing was found to be beyond saving and was demolished in 2016.  Work began on restoring Down Place during the spring and summer of 2021.
A campaign with a Facebook group and petition was organised in 2013 attempting to save the studios, despite the planning permission decision.  The occasional newspaper report mentioned it.  Terry Gilliam was one notable director who lent his support but it remained unclear how the studios could be saved.  I have been informed that the decision by the planning committee was challenged on the grounds that that they might have been given false information which may have affected their decision.  However, this last minute attempt to save this valuable asset for the UK film industry was unsuccessful.  What a waste!
Rather unexpectedly, it seems that at the end of 2014 Mr Hendricks quietly sold the studios to another developer – Farmglade.  Knowledge of this sale was not made public until the summer of 2015 when they revealed new plans.  Thus the opportunity to sell to a company looking to keep the studios open was very sadly missed.  Farmglade submitted completely different housing development proposals to the local council and very disappointingly, planning permission was granted in October 2015, despite the clear demand for studio space at that time.  A modification to the plans was also given planning permission in April 2017.  However, a condition of the permission was that work on the development must be started by February 2019.  When this date passed it looked as though the studios might be saved after all.  However, a renewed planning application was submitted in October 2019 which was subsequently passed by the council.
The proposals were for Down Place to be renovated and extended and turned into 10 apartments.  All stages and other buildings were to be demolished and 15 houses would be built.  Farmglade also own the farm to the west of the studio site and this too was to be developed with 127 houses.
Despite the planned closure of the studios, against all odds some filming did take place in 2017.  There were rumours of a TV drama using the facilities.  It turned out that it was the hit BBC thriller Bodyguard.  Apparently, Keeley Hawes was blown up on stage 2.  Later came some pick up shots for Mamma Mia! Here We Go Again.  Other productions to use the studios included Angel Has Fallen and Kingsman.
In January 2018 there was some very good news.  Farmglade had officially decided to postpone the redevelopment and re-open the studios in order to make some money on their investment for the time being at least.  This was hardly surprising – the housing market was not as vibrant as before, whilst demand for studio space continued to rise.
During 2018 some more buildings were demolished, including the old stage 3 and some new construction took place.  These were large 'temporary' buildings being used as workshops and prop/costume stores.  The brickwork above the Stage 2 dock door was also repaired.
Interestingly, the field between the studios and the main road was given a large hardstanding area with a couple of workshop buildings on it.  There was now a sign at a new entrance saying 'Bray Studios, South Lot.'  So, not only were the studios back in use, they had expanded!
Then in May 2018 it was announced that Rocketman, a musical about Elton John, was preparing to shoot at Bray.  The project occupied the studios for about 9 months.  Interestingly, the Leader of the Royal Borough of Windsor and Maidenhead now seemed to be very enthusiastic about filming resuming here.  Simon Dudley was quoted as saying 'It's incredibly exciting.  There are a number of projects that are being filmed.  They are really exciting projects and there's a possibility that there will be some investment.'  He is reported to have said 'The reopening of the studios makes the Borough stand out even more.  It's very exciting because there are a lot of people here who are involved in the arts, media and entertainment.'
This is all quite extraordinary since the same council previously seemed to accept what the owners told them on two previous occasions – that there was no demand for studio space in this area! Maybe they had spoken to a few people in the industry and discovered the truth.  Anyway – local Conservative councillor, David Coppinger, is quoted as saying 'The demand for filming, mainly because of companies like Netflix, is increasing and there is not enough studio capacity, so the owner of the land has reinstated the studio.  We will see yet again Hollywood film stars in Bray which has to be good for our local economy.'
This last minute conversion by the Royal Borough was obviously very welcome indeed.  Unfortunately of course they did renew the planning permission in November 2019 for the studios to be demolished and replaced with housing.
In August 2018 I was contacted by one of the neighbours.  He informed me that a great deal of activity had been happening on site, which was then occupied by a large number of movie-related vehicles.  He confirmed that some buildings had been demolished and new constructions had replaced them.  Some considerable investment in the studios appeared to be happening, which was of course very encouraging.  The neighbours were apparently contacted by Farmglade who confirmed that the housing market was currently poor so they were postponing the redevelopment.  They said that they had had a number of offers to use the studios which they couldn't turn down.
In May 2019 there was a press announcement that I'm sure thrilled many fans of Hammer films and lovers of Bray Studios.  The BBC's version of Dracula had begun shooting at Bray!  The show wrapped on 1st August.  Made by Hartswood Films, with scripts by Steven Moffat and Mark Gatiss – this is the dream team that created Sherlock some years earlier.  The drama was in three parts and was very well received when it was transmitted on BBC1 at Christmas.
In September 2019 Bray was being used to shoot series 2 of There She Goes, with Jessica Hynes and David Tennant.  Please drop me an email if you know of any other TV shows or films being made here.
The 2020 expansion.
Some really encouraging news came in December 2019.  Farmglade applied for temporary planning permission covering 2 years to considerably expand the studio site, keeping some of the existing temporary workshops and erecting several new stages and workshops.  The area included the original site, the field between that site and the road, and the farm to the west.  Permission was granted in June 2020.  A condition of the permission was that all the temporary structures had to be removed by June 2022.  (Of course many were hoping they would apply to have this limit extended.)  The press reported that the studios were being used by 'one of the biggest TV series in the world.'  Please drop me an email if you know which one!
What was very encouraging was the warm and enthusiastic support from local residents for the studios to continue in use.  On the planning application there was not one letter of complaint – all were saying that they were very happy for the studios to expand and continue in use.  Several noted that they were unaware of any increase in traffic or noise during the filming of Rocket Man or the BBC's Dracula.  One assumes that a housing estate of 152 large houses, most with at least 2 cars, would create a lot more traffic every day than the studios – especially taking into account on-line deliveries to the houses.  One can imagine a never-ending line of Ocado and Amazon vans.
Two new temporary stages were erected.  So, steel framed and soundproofed but relatively easy to dismantle if and when the time comes.  Stage 4 is about 165 x 130ft (22,150 sq ft) and is sited on the South Lot field not far from stage 1.  Stage 5 is slightly smaller than Stage 2 – around 9,730 sq ft and is positioned between Stages 1 and 2.  There are 9 temporary workshops, including 3 that were already standing.  Portacabins are being used for production offices.  There is also a large rehearsal room.
Renovation work was carried out on Down Place during the spring and summer of 2021.  Photos taken from the river when the scaffolding was removed showed it looking very smart and clean, for the first time in many years.
The future looking bright!
In June 2021 Bray Film Studios (note the new name for the business) issued a consultation document revealing that they intended to replace a number of the temporary buildings and construct several new permanent ones – including 5 new stages.  In other words, the studios were going to remain in business and the plans for housing had been postponed indefinitely.  Whew!  In summary – the temporary stages 4 and 5 would remain but new workshops and other supporting buildings would be constructed on the east side of Water Oakley Lane.  Meanwhile, west of the lane there will be two very large constructions – one with 3 stages and adjoining workshops and the other with 2 plus workshops.  These are curiously numbered as follows:
Stage A1 – 15,800 sq ft
Stage A2 – 18,300 sq ft
Stage A3 – 15,800 sq ft
Stage B1 – 22,300 sq ft
Stage B2 – 22,300 sq ft
The whole site will be landscaped with many trees and sloping banks to conceal the buildings from the neighbours.  The stages will also have green roofs.  Sadly the small stage by the house will be demolished.  This was the first one that Hammer built in 1953 and was numbered 2, 4 and 3 over the years.  It had many Hammer horror sets built within it and much later was used for FX scenes in Alien.  Tucked up next to Down Place it will have to be removed as the old house will have a new wing added, as was proposed in the 2019 application for 10 apartments to be built.  Well, that's sad but frankly not surprising.  It's a small price to pay for the rest of the studios to continue in operation.
Interestingly, Waterford House, the large house next door up river, is now owned by the studios and will be retained with its riverside garden, effectively replacing Down Place in the life of the new studios.  One assumes it will contain meeting rooms, maybe a bar and restaurant and become the perfect place for cast and crew to enjoy riverside lunches – just like the old days.  Another 19th Century property known as Steading is also being retained.
Planning permission was granted on 8th November so one can assume that the new stages will be available in 2023.
This is all terrific news of course.  For many years, the future of Bray hung by a thread but now it will be possible for these studios to attract a mix of high end TV and feature films for many years to come.  In fact, in November 2021 it was revealed that season 2 of the Lord of the Rings prequel will be filmed at Bray.  (Season 1 was made in New Zealand.)  This is a terrific coup for these studios and confirmation of how vital Bray will be for the future of the British film industry.  Pre-production is due to begin in the second quarter of 2022 so they will be using the existing 4 stages at first.  Bovingdon Airfield was also mentioned as a base for exterior sets but in fact 3 new large stages have been built there, so they will complement the ones here at Bray.
For much more information on Bray I can heartily recommend Wayne Kinsey's excellent book 'Inside Bray Studios', published in 2018 by Peveril Publishing.  It is superbly researched and full of fascinating details and hundreds of photos.