mid '80s  – present
(revised June 2022)
These studios are located on Three Mill Island, Bromley-by-Bow in East London.  The island is said to be London's oldest surviving industrial centre and is the location of The Clock Mill and The House Mill – the latter being the largest and most powerful of the four remaining tidal mills in Britain.  It last turned in 1941 but there are said to be plans to restore it to working condition as a power generator.  In fact there may have been several mills on the island at the time of the Domesday Book – these reduced to three by the 12th century (when the island gained its name) and in the 16th century the three became two – the House Mill and the Clock Mill, seen above.  These together had a total of seven large waterwheels and in the 19th century they were processing around 125 tons of maize and barley per week. 
The mills and associated facilities on the island have been built and rebuilt several times over the centuries.  As well as maize and barley they were even briefly used to produce gunpowder.  In the 19th century Nicholson's acquired the site and used it to distil gin.  Following air-raid damage during the war this ceased but the remaining buildings continued to be used for warehousing. This lasted in parts of the site right up to the early 1990s.
Some of the old distillery buildings began to be used for film production from the mid 1980s.  There are conflicting reports on the precise sequence of events but this seems the most likely (unless you know different?)…   Two companies established themselves here – Bow Studios and 3 Mills Island Studios.
In 1993 the two studio businesses and all the other buildings on the island were bought by Workspace Group – a property company specialising in the provision of accommodation for small businesses.  Workspace invested over £8m in the site – a considerable amount.  At the same time Edwin Shirley, a former actor and businessman, saw the potential in these facilities so he formed Edwin Shirley Productions (ESP), took out a lease and became the management company for the new 3 Mills Studios.
Unfortunately in 2001 there appears to have been a legal dispute between Workspace Group and ESP over lease contracts and rent payments.  According to press reports at the time, Workspace 'ousted' ESP from the studios.  There seems to have been some concern at the time that the studios would close but Workspace declared that they were committed to seeing film-making continue.  They brought in a consultant from Leavesden Studios to help take over the running of 3 Mills.
In August 2004 the studios were taken over by the London Development Agency who transferred ownership to the Olympic Park Legacy Company in 2010.  Some of the stages were used as rehearsal rooms for the opening and closing Olympic ceremonies.  This enterprise is now known as the London Legacy Development Corporation.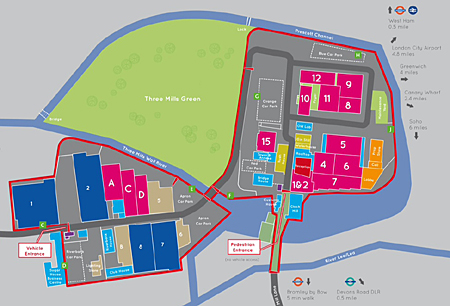 As you can guess from the long history, the site is now an attractive mix of buildings of various shapes and sizes.  There are no fully equipped TV studios here but there are an impressive 11 stages plus a number of rehearsal rooms, workshops, prop stores and over 200 production offices.  Most stages were adapted from previous industrial use so have a variety of proportions and roof heights.  Most have fairly basic grids unlike the purpose built stages at sites like Pinewood, Elstree, Leavesden or Shepperton.  Only stage 15 has air extraction built in and none has air cooling which means they are bound to get pretty warm when used for long periods with a big lighting rig.
The studio site until 2014 was two separate sites side by side and linked by a bridge over the river.  On the west were stages A, C and D and associated workshops and offices and to the east the island with the old mills and the numbered stages 1 – 15.  (stages 3, 10, 13, and 14 no longer exist.)  In 2014, despite increased demand for studio space, the entire western section was closed and demolished for redevelopment.  The studios are owned by the London Legacy Development Corporation – who, let's be honest, are not particularly interested in film and TV but have a remit to redevelop and upgrade this whole area with new housing, business premises and shops.
The stages are used for all kinds of work including pop videos and commercials and for rehearsing rock tours and West End musicals etc.  Several feature films have also been made here such as Topsy Turvy, 28 Days Later, Sexy Beast, Lock, Stock and Two Smoking Barrels, Made in Dagenham, Sunshine and Attack the Block.  3 Mills is also used to film single-camera TV drama and in recent years they have occasionally been used to record multi-camera TV shows using OB units.  Live TV has also come from here with Channel 4's Million Pound Drop.  Masterchef has been based here since 2015 but is due to move to the new Digbeth Loc studios in Birmingham in 2024.
These studios are reasonably close to tube and DLR stations and with good road, rail and even air connections via London City.  However, they are situated well away from most of London's other film and TV studios so those working in the industry living to the west probably find them not as easy to commute to.  They are also sited well away from prop hire and scenery companies which are mostly located to the west of London.  Also, as mentioned above, most of the stages do not have the flexible grids found elsewhere and none has built-in air conditioning – so 3 Mills have had to attract business in other ways.  Quite sensibly, I am told that they are relatively cheap to hire and so are ideal for shows with standing sets or, let's be honest, low budgets.  However, that's far from all – the site is long established as a busy studio centre and is well equipped with production office and workshop/wardrobe/make-up areas.  It also contains many beautiful old buildings plus the surrounding waterways of course and by all accounts is a very pleasant environment to work in.  I have personally visited the site on a recce but never worked there.
The Sound of Music Live

On 20th December 2015, ITV presented a very ambitious production – a live staging of  The Sound of Music, with a delightful performance by Kara Tointon as Maria.  A similar show had been made by NBC in America in December 2013 – to somewhat mixed reviews (although further live musicals have followed there).  ITV thought the Brits should do it too – and by many accounts they did it rather better.

Of course, although commissioned by ITV Studios, the show was actually made by a team of highly experienced British TV freelancers – most were once BBC or ITV staff but for many years they had been working on a range of productions from music and entertainment shows to multicamera sitcoms.

Three stages were taken over here at 3 Mills.  The show was originally due to be made over the Easter holidays at Leavesden Studios but for various reasons was postponed.  Two of the stages are linked but the third is across a car park so when the cast moved from stage to stage during ad breaks a team of umbrella handlers were standing by.

Technical facilities were provided by Telegenic.  There were 14 Sony HDC 2500 cameras on various mounts (mostly peds) and 3 Sony F55 CineAlta cameras on Steadicam mounts.  The F55s were chosen because of the shallow depth of field they would give but I understand that picture matching of the two camera types did prove to be a problem at times.  Mind you, the final result was impeccable.

The orchestra was prerecorded but all sound was live – each actor had two radiomics hidden in their hair or costume.

The stages used were as follows:

stage 11  –  The Abbey – 3 peds, a hothead on overhead track and 3 Steadicams

stage 6  –  The bedroom and the concert hall – 3 peds, 1 Technocrane and 2 Steadicams

stage 5  –  The villa and garden  – 4 peds, 1 Merlin arm and 3 Steadicams

Of course, this was not the first time musicals or operas have been made in TV studios.  The BBC made several in the '70s and '80s at TV Centre – usually in TC1 with a live orchestra in one of the other studios and ATV made one or two at Elstree.  However, these were always pre-recorded.  Also, of course, many operas and theatre productions have been transmitted live to cinemas since about 2012.  However, these were transmissions of existing, well rehearsed productions.  To my knowledge, this is the first time a new musical theatre production has been transmitted live from a studio in the UK since the late 1940s and '50s, when such things came from Alexandra Palace and were simply seen by the crew as another working day.
Multicamera TV shows made at 3 Mills have included 24 Hour Quiz, The Grid, Big Brother (series 1 and 2), Blue Peter Christmas Panto, The Slammer ('06, '08), Hell's Kitchen ('07, '09), Gordon Ramsay's Cookalong Live ('08), Katy Brand's Big Ass Show ('08), Britain's Next Top Model ('10), Million Pound Drop ('10, '11, '12, '13),  A Comedy Roast ('10), Ant and Dec Push The Button ('11), The Sound of Music Live ('15)
Single camera dramas and comedies have included Bad Girls, The Canterbury Tales, Chickens, Cold Lazarus, Crocodile Shoes, Hornblower, Hunting Venus, Kavanagh QC, Letting Go, London Bridge, London's Burning, Manchild, Prime Suspect, Randall and Hopkirk (deceased), The Diary of Anne Frank, Waterloo Road, Ashes to Ashes, The Bill, Lead Balloon, Luther, Whitechapel , The Royals, Jekyll & Hyde, The Job Lot, The Great and Expendables.
There are/were 14 stages as follows:

Stage 1  – 3,945 sq ft – mostly used as a rehearsal room for musicals

Stage 2  – 3,129 sq ft – very dead acoustic and mostly used for theatrical and musical rehearsals

Stage 4  – 6,034 sq ft – (links to stage 6) square shape and used for some single camera dramas such as Diary of Anne Frank

Stage 5  – 10,437 sq ft – same size as arena of Royal Albert Hall. Often used for rehearsals but also commercials and features such as Attack The Block.

Stage 6  – 8,056 sq ft. Contains an L-shaped blue screen. Used for Hells' Kitchen and The Slammer amongst many others.

Stage 7  – 13,483 sq ft – largest stage here. Used for Ant and Dec's Saturday Night Takeaway, Bad Girls, Never Let Me Go plus many others.

Stage 8  – smallest at 3,802 sq ft. Used for Hell's Kitchen, 28 weeks Later, Lead Balloon etc.

Stage 9  – 8,949 sq ft. Million Pound Drop, The Slammer, Terry Pratchett's Hogfather and so on.

Stage 11  – 8,128 sq ft and with a block and tackle grid. Million Pound Drop, The Mighty Boosh and many rock tour rehearsals.  Has a covered area alongside suitable for an OB scanner or portacabins providing TV facilities.

Stage 12  – 7,834 sq ft and with highest grid on site.  Used for Million Pound Drop, Diary of Anne Frank, Ant and Dec's Push The Button, Sunshine.

Stage 15  – 5,320 sq ft and the newest (purpose-built) stage on site with gantry, I-beam grid and external power source for OB scanner.  Gordon Ramsay Cookalong Live, The Deep Blue Sea  plus various ads etc.

The following stages no longer exist:

Stage A  – 10,499 sq ft. Several features such as  Eastern Promises, Tim Burton's Corpse Bride, Enter Shikara made here.

Stage B became a workshop.

Stage C  – 9,169 sq ft. Direct access to stages A and D.  Fantastic Mr Fox, Tim Burton's Corpse Bride, Sunshine .

Stage D  – 9,402 sq ft –  Fantastic Mr Fox, Tim Burton's Corpse Bride, Sunshine.

Stages A, C and D were grouped together on the west of the site along with various workshops and warehouses and were ideal as a base for making feature films. This area was separated from the rest of the site by a central gate in the roadway that linked the two halves of 3 Mills.
All the above images with thanks to the 3 Mills website.
3 Mills is not a major studio like Pinewood, Shepperton or Leavesden.  Most of the stages are relatively small by film standards but are ideal for shooting TV drama, commercials, pop promos and low budget features.  They have also been used for a few multicamera TV shows with standing sets.  3 Mills might be compared with Black Island/Dukes Island studios or West London Studios (HDS).  All are appealing to the same market.  Their only possible handicap is their location but thanks to the Olympics, the east of London has enjoyed considerable investment in transport links and a general uplift to the area.  These studios are benefitting from all that.
Although the stages are currently simple black boxes, in August 2015 it was reported that 3 Mills were considering investing £10m into one of the stages to turn it into a TV studio.  However, in February 2016 studio head Tom Avison was reported as saying that the demand for TV drama and features makes that type of work currently more viable.
In 2016 the LLDC – owners of 3 Mills – announced that they were considering using 3 Mills as storage for a museum that was planned to move to the Olympic Park.  No firm decision had been taken but the long term future of these buildings for use as film stages was put in some doubt.
Then on 5th October 2017 it emerged that the LLDC were considering disposing of 3 Mills completely.  According to a published document they noted that 'the local context is dramatically changing, with 3 Mills Studios at the centre of an emerging town centre.'  It stated that the the site is surrounded by three significant developments which will deliver around 3,500 new homes.  They noted that 'the LLDC has the opportunity to further support the town centre development and long term regeneration of this part of the lower Lea Valley by integrating part, or all of the 3 Mills Studios site into the emerging context.  LLDC is now considering disposing of its interest in the site on the open market.'
However, as of March 2020, the studios were alive and kicking and as busy as ever.  Paul de Carvalho, general manager, contacted me and pointed out that 3 Mills was still the home of  Masterchef  and hosting plenty of high end TV drama and the occasional multi-camera show including  Al Murray's Great British Pub Quiz and the UK version of RuPaul's Drag Race.  So this is all very encouraging to hear and it seems that rumours of the death of 3 Mills have been greatly exaggerated.
In June 2022 it was reported that £6m was to be spent on upgrading some of the facilities here.  Sadly, the sound stages are not included in these improvements it would appear but some of the old buildings will be restored and refurbished.  The Grade II listed Custom House will be converted into office space hoping to attract a creative media company.  The Gin Still will be transformed by the introduction of two new floors of film/television production offices and a multi-purpose creative space on the ground floor, while showcasing the history of the site – including a ten-metre-high copper gin still – in its atrium foyer.  The existing screening room is to be turned into a 60 seat cinema and presentation space, suitable for conferences.  The studio's power supply is also to be upgraded.