The new South Bank Television Centre opened in 1972, equipped with the EMI 2001 colour cameras which had been transferred from Wembley.  Studios 1, 2 and 3 had four each, studio 4 (presentation) had one and there was one spare.  They saw several more years of sterling work. 
Between 1980 and 1982 The EMIs were replaced with Marconi Mk IXs (not liked by all), then between 1989 and 1991 Hitachi SK-F710s (very nasty pictures in my opinion) and from 1997 Ikegami HK388W (very nice indeed.)  Studios 1 and 2 received new Sony 1500 HD cameras during 2009.
The studios were later marketed as The London Studios and although owned by ITV plc they were rented to many independent production companies making programmes for all the main channels including the BBC.  TLS was unusual for many years in that almost all of the crews were staff with relatively few freelancers working there.
The building was originally owned by Coal Pension Properties – LWT took out a 100 year lease.
On 13th November 2012 it was reported in the press that ITV had decided to leave their HQ on the South Bank despite having 56 years left on the lease.  The owners had put the building up for sale and the Independent later reported that 40-50 potential bidders were interested.  ITV was said to be looking at three potential sites 'to move their studios to'.  In fact the truth behind the story was rather more interesting.
On January 28th 2013 it was announced that ITV had bought the freehold of the property from Coal Pension Properties for some £56m.  ITV issued the following statement: 'The purchase gives ITV flexibility in its property strategy as it continues to transform and rebalance the company.'  This statement gave rise to rumours that ITV were planning to move from this site and build a new studio centre elsewhere and in order to do so they had to buy the freehold first.   Little did we guess what they were actually planning to do.
The familiar tower seen above was originally known as Kent House.  The studio centre built in the podium around it was initially called the 'South Bank Television Centre'.  In the early 1990s the building was confusingly renamed 'London Television Centre' when LWT Production Facilities was created.  However, not long after – apparently in order to attract BBC productions – the studios themselves were marketed as 'The London Studios' thus ensuring that cab drivers would forever have to ask twice which studios you meant.  Although this was the official name for a couple of decades, the studios were still referred to by many people in the industry simply as 'LWT.'  (Useless fact number 27b – apparently, at the planning stage, the building was known as 'Kings Reach Studios' and, in support of this, many of the lines carrying signals in and out of the building were prefixed 'KRS'.)  However, for the sake of simplicity I shall henceforth refer to the studios as 'TLS'.
TLS had two main studios (1 & 2), which were 88 x 67 feet within firelanes.  That's real feet – not 'metric feet' which most other studios centre used as a measurement.  (In metric feet of 30cm that would be 89.4 x 68.  This is slightly shorter and 2 feet narrower than TC3 at Television Centre.  The Pinewood TV studios are some 16 feet longer and 6 feet wider.)
Studio 1 had the advantage of a permanent audience seating area extending along one of the long walls of the studio which, when supplemented by pull-out seats, gave an audience of about 600 – a huge advantage over other studios.  (BBC Elstree D has a similar floor area but smaller permanent audience seating.  Interestingly, the refurbished TC1 has had an audience rostra fitted with – you guessed it – 600 seats, so it looks similar to TLS studio 1 on camera.)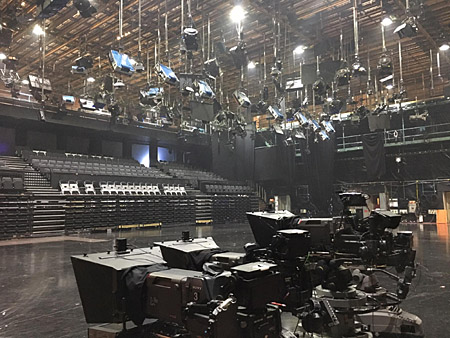 There was also a medium sized studio (3 ) at 53 x 43 feet alongside on the ground floor.  This was often used for current affairs programmes or various magazine shows.  From September 2012 to April 2014 it became the home of Daybreak.  Studio 3 then became home to Loose Women and Lorraine.  Peston on Sunday was also made here.
Studio 4 was the original small continuity studio.  When LWT began broadcasting they had in-vision announcers like most ITV companies at the time.  The only ones I remember are Peter Lewis and Pam Rhodes but if you're desperate there's a website somewhere that lists all 23 of them.  Steve Jones has contacted me and added two more names to the list – Barry Haynes and Alec Taylor.  Some readers will remember Susie Blake's very funny continuity announcer sketches on Victoria Wood's show that resembled a typical LWT announcer.  Obviously none of the real ones were quite as hilariously patronising as she was.  Obviously.
In down-time, studio 4 was also used for 'down the line' political interviews for ITN and by other regional ITV companies without studios in London.  By the 1990s ITV announcers were only heard, not seen.  The studio itself remained for a while and was used for out-of-vision announcements.  Duncan Stewart has written to inform me of its fate…
'The original studio 4 was rebuilt into the new LNN Transmission area in 1992.  Several years later, just weeks before ITV2 launched, they announced to LNN that they wanted to do two handed in-vision continuity, at this point the new transmission area had been completed and the associated voice over booth built to a fairly lavish standard.  The booth couldn't have been more than 120 sq ft.
Promptly the booth was stripped, a perimeter of scaff fixed around it and some lights nicked from other departments.  There weren't many widescreen capable cameras around LNN at this time, I recall Sony lent us one to demo (it was later stolen).  There were no dimmers, just some hastily run hot power, so you just went in and turned the lights on.  Studio 4 was reborn.  Over the next few months a proper installation was done with 12 dimmer channels and a selection of "Day" and "Night" cues.  It was completed shortly before ITV2 dumped in-vision continuity and it was all removed again.'
This tiny studio was located within a department known as The Southern Transmission Centre (STC), together with another voice-over studio used for ITV1 continuity.  ITV transmitted many ITV regions and 'macro regions' from this building, together with GMTV, ITVs 1, 2, 3 and 4 , CITV & ITV Play.
In 2007, this playout operation was outsourced to Technicolor Network Services in Chiswick.  (The BBC similarly outsourced its playout operation to Red Bee in 2005.)
Three small to medium sized studios were to be found around the site…
Studio 5  in the main tower block was 54 x 42 ft wall to wall.  The area the studio occupied was originally intended to be a rehearsal room but it was turned into a studio whilst the building was being completed.  In fact, there was another rehearsal room opposite on the same corridor.  That room was used as an office for the Planning & Installation department, until it was converted – first into offices and film editing rooms, with a new mezzanine floor being used as a store for the VTR Library – and later (upon the arrival of GMTV) into control rooms for studio 5.  Before that, studios 3 & 5 shared the same control rooms on the ground floor. 
The original occupant of studio 5 'lived' here for 17 years.  This was Dickie Davies' World of Sport , which ended in 1985.  The programme itself began in 1965 and was originally made by ABC at Teddington – presented by Eamonn Andrews.  (Note that it was ABC – not ATV, the London weekend franchise holder.)  Dickie Davis became presenter in 1968 when LWT replaced ATV. 
This must be one of only a handful of programmes that survived the franchise change.  The show specialised in the sports that the BBC's  Grandstand  didn't – including most famously wrestling, introduced by Kent Walton.  However, it also covered football: On the Ball – and horse racing: The ITV Seven.  Its coverage included minor sports such as women's hockey, netball, lacrosse and some less obvious sports like the World Barrel Jumping Championships (!) and Ice Speedway.  Towards the end of its life it showed a great deal of snooker.  Incidentally, Bank Holiday Monday editions of the show were Thames' responsibility so came from their Euston studios.
Studio 5 was also used for  Saturday Scene  – after it had moved out of Studio 4 (Presentation) and for Police Five.  Some early editions of Night Network were also made in this studio.  It was the home of The Saturday Morning Show and The Big Match.  When the satellite broadcaster BSB first started, the studio was used to make some programmes for them.  These were made in 'component' (an improved system of encoding the colour information in the picture) and so a special control room was built for the studio in a Portacabin on the 3rd floor roof.
The studio was equipped with Philips LDK 200 cameras.  These replaced the previous Hitachi SK-F3s in 2003.  The Hitachis were installed ready for use by GMTV in 1993.  It was later converted to HD.
Studio 5 was used from January 1993 to August 2010 by GMTV for their daily breakfast shows – some 17 years, the same as  World of Sport.  It then had a long-term booking by Al Jazeera television that ended in 2012.  It was used for the BBC's Strictly Come Dancing: It Takes Two show during the autumn of 2013, after which that show moved to studio 7 for the following few years and then returned to TC2 in Television Centre in 2017.
From April 2014 this was the home of Good Morning Britain.  The production moved to TC3 in the spring of 2018 and very sadly the studio was decommissioned.
Studio 7  was 68 x 40 ft wall to wall and was known as the 'skyline studio' with views over the river through its windows.  Constructed in 1992, it began operation in January the following year. It was the home of London News Network.  This took over from the old Thames News on weeknights and LWT's 6 o'Clock Live and LWT News.  LNN was a jointly owned (Carlton/LWT) company set up to provide the local news and a transmission service for both broadcasters; this later became STC.  LWT had previously attempted to come to some sort of arrangement with Thames for transmission – LWT's Presentation Suite stood empty for most of the time – but to no avail.  So, following the demise of Thames, LWT got together with Carlton – and LNN was born.
Studio 7 was unusual at TLS in that it was originally fitted with Sony cameras.  Initially, it had Sony BVP-70s but it was re-equipped for widescreen in the late 1990s with five Sony BVP-950s. The lighting grid was a fixed height with luminaires hung on short bars which could track on rails.  Thus, it was pretty flexible in how it could be rigged.
The studio was in the Podium Block – two floors up from the Studio Café.  It was a new build – an extension to the original building on the podium's roof and included dressing rooms, make up etc. – all on the 3rd floor.  The old first floor canteen was converted into the newsroom.  The old servery area of the canteen was converted into Studio 7's control rooms also on the first floor.  The very large kitchen area became edit suites and News Exchange.
LNN was closed down in 2004 and the local news operation became part of ITN's brief.  London's local ITV news now comes from the ITN studios in Gray's Inn Road.  It is perhaps surprising that following the demise of LNN the studio was not booked more often by productions wishing to capitalise on the view.  Studio 7 was often used however by productions as a 'normal' studio using a conventional set and it was regularly used by ITV Sport.
In September 2010 it became the home of ITV's new breakfast show Daybreak – its spectacular view not turning out to be quite so visually appealing first thing on a cold autumnal grey morning.  Who'd have guessed?  The studio was refurbished for the series and the lighting rig replaced almost entirely with LED fittings.  As well as producing very little heat, thus keeping the studio cooler, they also enabled the LD to adjust the colour of the keylights to cope with the changing colour of the daylight outside.  The windows were coated with a film that could be remotely adjusted so that more or less daylight was seen through the windows, thus helping the lighting balance.  This was very important as Daybreak often began in darkness and – because the studio faced East – the sun was seen to rise behind the presenters during the show.
The studio ended its booking with Daybreak in September 2012 when it moved into studio 3 with a more conventional set.  Studio 7 was still occasionally used but most bookings pulled black drapes over the windows and used it as a conventional studio.
For a couple of years there was also a small studio (about 200 sq ft) in the same area which LNN called Studio 9.  It was converted from a V/O booth in 2002 in connection with ITV's World Cup Coverage.  Apparently part of the coverage was coming from Studio 7 and this interfered with the regular news bulletins.  It was therefore decided to set up a simple one camera capability to allow the local bulletins to go ahead unhindered. It had a Chromakey backing and was used occasionally for news headlines.  Duncan Stewart has sent me some more info…
'Studio 9 was indeed another LNN converted voice over booth, with its associated gallery the largest edit suite (Edit 1). The main problem was it was so tiny that you couldn't even open the door without intruding on shot, however despite this it was used a fair bit and certainly bailed LNN out of impossible situations a number of times. There was one redeeming feature – LNN worked on minimal staffing requirements out of hours and the unmanned studio 7 was two floors above the gallery which involved a lot of running around for the duty engineer – Studio 9 was just behind the gallery which made life much easier!'
Studio 9 was lost when the whole of that area was rebuilt to house the new non-linear (tapeless) edit facilities of ITV Creative.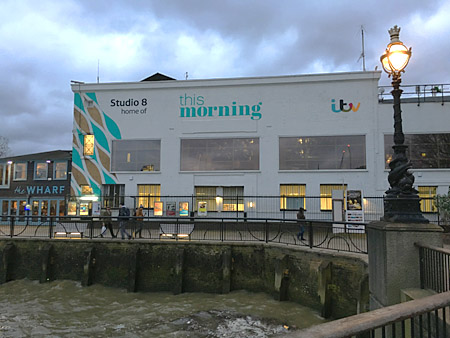 Studio 8 was 58 x 51 ft wall to wall.  It was located in an old warehouse building used for scenery and props storage in Princes Wharf, situated between the main LWT block and Gabriel's Wharf.  Fronting the road is a mock-Tudor building called The Younger's Building which, not surprisingly, used to be owned by Younger's Brewery, along with the industrial buildings between it and the river.  This site was acquired by LWT some time after they moved into their main building.  It was leased from Coin Street Community Builders, the trust that owns much of the land in this area.
The studio was created in 1996 for the show This Morning with Richard and Judy when they moved to London from their original studio in Liverpool's Albert Dock.  They later transferred to C4 with their own show but the ITV series continued to come from this studio.  It too had views over the river and its large windows on the first floor can still be seen from the riverside embankment walkway that passes outside.  The studio was also occasionally used for other programmes including Champions League .
Studio 8 was initially equipped with 5 x Ikegami HK-323P portable 2/3-inch tube cameras transferred from Granada Television's Albert Dock.  These lasted for about a year or two when Hitachi SK-F710's were moved to it when they became surplus from the main studios (1, 2 & 3).  Ikegami HK-388's were installed around 2000/2001.  The studio later became fully HD.
Studio 8 closed in the spring of 2018 and the programme moved to TC3, which it shares with Good Morning Britain.  In order to preserve the attractive view of the river from the new set in TC3, recordings were made of the view in various types of weather and at different times of the year.  These are now displayed on LED screens resembling windows in the present set.  Since some items are televised outside the studio in the very familiar grounds of TV Centre, viewers may wonder how there is still a view of the Thames through the studio windows in Shepherds Bush.
It is perhaps not that widely known that there was once a Studio 10 at LWT.  It was built on floor 10 of the main office block during 1988 and was often referred to as the 'tenth floor studio'.  Despite its small size it was equipped with five BTS LDK 90 cameras which were later updated by the 91/93 version.  This 950 sq ft studio (33ft x 29ft wall to wall with an 8ft grid height) was originally created for a new kind of on-air presentation which, for the first time, exploited the views across London.  This was marketed as The Weekend Live and began on 13th January 1989.  The idea behind this new presentation style was to consolidate LWTs identity 'as a broadcaster for London, broadcasting  from London' (it says here) – and to underline this with a live view of the Thames.  Ironically, some might say, to steal the thunder of ITV weekday broadcaster Thames TV, who despite their name only ever showed a stylised photo graphic of the river.  Continuity links were moved to this studio for certain parts of the weekend – although curiously not using the usual continuity announcers.  Mike Smith, the radio DJ, was one of the new presenters.
I'm told that the programme department responsible for 'The Weekend Live' ordered all the technical equipment for the studio themselves without involving the LWT engineering department as they might 'complicate things.'  Inevitably, after several disastrous breakdowns on air it was all ripped out and replaced with better kit a few months later and the floor plan of the studio and control rooms was redesigned.
Studio 10 was used in 1990 as a call centre for ITV's Telethons, plus some of their other network programmes involving phone-ins.  I'm told that it was also used for Cilla Black's Surprise Surprise for some live inserts.  The studio became home to Police 5, Crime Monthly, LWT News, 6 o'Clock Live and a range of other local programmes including The Sunday Match.
6 o' Clock Live followed on from the popular 6 o'Clock Show, which had been made in studio 2.  It ran from 1990 to the end of 1992 and was presented at various times by Danny Baker, Jeni Barnett, Frank Bough and Joanna Sheldon.  When LNN began broadcasting from the new studio 7 in 1993, studio 10 was used less and less.  It was never digitised – although it did have some widescreen capability through a sub-mixer.  Studio 10 was eventually to become home to Talk TV – one of the early new Granada channels, and later to EuroTransMed which, for many years, broadcast medical discussion programmes to hospitals throughout the world.  Channel Four's Business Daily also came from this studio for a while.
Studio 10 was converted back into offices around 2002/2003 but its original location could still be seen if you looked at the north east corner of the building from outside as the windows it used were a slightly different shape and colour from all the others.
If you are wondering about Studio 6 – it is the name of a very pleasant restaurant and bar close by in Gabriel's Wharf.  No, really.  I'm told the name came about because many employees used to regularly drink in the old Mulberry Bush pub over the road (where the current one is now located.)  When people wondered where somebody was, the answer was 'He's in studio 6.' 

The Coin St redevelopment took place around 1988 and the old pub was demolished.  As a temporary replacement during the building work, a wooden pub was built in Gabriel's Wharf and run by the owner of the original one.  The obvious name to call it was 'Studio 6.'  The Mulberry re-opened but the temporary building remained and under new ownership became a very popular bar/restaurant.  The name has stuck and hopefully it will continue to exist for many more years, although Gabriel's Wharf is earmarked for eventual redevelopment.  I for one would be very sad to see its charming, slightly ramshackle mix of cafes and little shops go.
Naturally I am biased, but to me the most interesting part of the building was occupied by Studios 1-3, which were to be found side by side on the ground floor.
The three main studios were very well designed with particularly clever lighting grids, designed by LWT staff LD John Fyfe.  These utilised monopoles (telescopes) but the track system had several crossovers enabling 'scopes to be quickly moved from track to track.  This gave the LD a great deal of flexibility if things changed during rehearsals and lamps needed to be moved.  Rigging, which was done from gantries each side of the studios, was also very quick enabling fast turn-arounds from one show to the next.  The much older grids at Teddington were almost as good but did not have crossovers – 'scopes had to be inserted by hand which could be done but was somewhat slower.  At BBC Elstree the grids are very similar to Teddington but do have some crossovers.  However, these take much longer to operate because cables have to be unplugged first.
A feature of the three main studios was that the gallery suites were all on the ground floor.  This was so sensible that it is astonishing that it took so many years for studio architects to realise the fact.  Most of the studios built in the following decade or so copied this (Limehouse, Maidstone, HTV Cardiff, Central Nottingham etc.)  In fact, when the BBC refurbished TC6 in the mid-nineties they moved its galleries to the ground floor because they knew that they had to compete with LWT for studio hire to independent companies.  However, inexplicably, the brand new studios at BBC Glasgow and MediaCity in Salford both have their galleries even higher – at gantry level, two floors up!  What were they thinking??!!  Certainly, from the point of view of the director and LD – both of whom often have to nip onto the studio floor several times a day, the absence of a long staircase to climb each time is very welcome. 
It is several decades since it was considered important for the production team to be able to look through a window onto the studio floor.  Many existing windows in various studios are now blocked off anyway.  It's actually quite surprising to me that back in the '50s and early '60s when so many studios were built it was felt to be essential.
The control galleries shared a feature with the somewhat older ones at Teddington.  They were designed on a 'fan' layout with the desks set on a curve so the director could clearly see every person in his or her own gallery plus those in sound and lighting through large windows.  Some of course might say that this was a mixed blessing but I couldn't possibly comment.
In my view, in many respects these were the best-designed television studios in the country – although they did have one serious weakness, only having one scene dock door and no direct access to outdoors.
During the early years of the building, some of the technical equipment in it had been manufactured by a company called Dynamic Technology Ltd. (DTL).  This was an offshoot of LWT that made equipment that had been partly or wholly designed by LWT engineers.  The gear was was built to LWT's specifications and even included dimmers and lighting consoles.  These were given a slightly different badge – 'DaTaLite'.  These dimmers were sold to Thames TV and were in use in Teddington's studio 1 right up to its closure in 2014.

The consoles and distribution amplifiers etc were sold to other broadcasters too – including BBC Northern Ireland and some overseas companies including SABC in South Africa.  It seems that LWT had a contract to provide equipment and engineering support to the latter for a few years.  (A somewhat controversial association at that time, I would have thought?)  DTL Broadcast Ltd still exists as a manufacturer of DAs and has branches all over the world.  One assumes they no longer have any connection with ITV.
The London Studios, when run by LWT, were famous for a mix of drama, comedy and entertainment.  The dramas included such classics as Upstairs, Downstairs – whilst the comedy included popular series such as Mind Your Language and the various 'Doctor' series.  However, they also made more sophisticated series such as Two's Company with Donald Sinden and Elaine Stritch, A Fine Romance with Judi Dench and Michael Williams and No – Honestly with Pauline Collins and John Alderton.  Other notable comedies included Thick as Thieves by Ian La Frenais and Billy Liar by Waterhouse and Hall.
It's a shame that for a number of years ITV rather lost their way when it came to comedy.  The last sitcom series made at TLS for a long while was Al Murray's Time Gentlemen Please between 2000 and 2002. Perhaps surprisingly, that series was made for Sky One.  Prior to that, the last sitcom series was probably Gimme, Gimme, Gimme – and that was made for the BBC in 1999-2001.  During this fallow period I lit three sitcom pilots here – one was called Sister Frances (2004) and starred Jo Brand, another was called Hibbert and Long (2007) and the third was Above Their Stations (2009) and curiously was made by ITV Studios for BBC 3.  Unfortunately none of them was commissioned.  Must have been the lighting.  Good sitcoms do very well in the ratings and ITV has had much success in the past so it is perhaps surprising that the channel seemed to abandon this genre for so long.
This all changed in 2013 when Vicious was recorded here in studio 1, starring Sir Ian McKellen, Sir Derek Jacobi and Frances de la Tour. (A second series was recorded in 2015).  Series 1 of  Birds of a Feather followed at the end of 2013 but at least one other sitcom was made here (lit by yours truly) – Catherine Tate's Nan  for the BBC.  This was a pilot but was transmitted in January 2014 as it was so well received.  A series followed a year later but I wasn't available for that unfortunately.  I returned in the autumn of 2014 to light the final two Miranda specials.
I was also lucky enough to light Ben Elton's Shakespearean sitcom series Upstart Crow starring David Mitchell for BBC Comedy here in 2016, 2017 and 2018.  This was the last sitcom to be made in these studios.  It was somehow poignant that a comedy about Shakespeare should be recorded just a few hundred yards from where his plays were first performed.  I should mention that the lighting for this show was very demanding and frankly, I don't know how I would have achieved the 'look' of the show in the time we had if it had not been for the superbly designed grid and assistance of the excellent sparks crews.
The LWT studios were the home of one of the most original performers in his day – Stanley Baxter.  From 1972 he began a relationship with LWT that would last for more than a decade.  His later shows were usually an hour long but we had to wait a year for each one.  This long wait was usually worth it and his impersonations of various film and television characters were always spot on.  Sadly, ITV dropped him from 1982 because his shows were so expensive to make.  He was welcomed by the BBC for a year or two but they too discovered how much his shows cost and his last special was made by them in 1986.  It's worth pointing out that it wasn't him personally who was expensive – indeed he claimed in a documentary that he was paid much more money when he was in the children's series Mr Majeika.  It was the elaborate sets, costumes and the number of days it took to make each show.
The studios were the base for Melvyn Bragg's The South Bank Show until the show was axed by ITV in 2009.  A particularly poignant edition was the final interview with Dennis Potter in 1994 shortly before his untimely death.  Those who worked on the programme still talk of what an extraordinary experience it was – both uplifting and emotionally draining.
Studio 1 was given new seating in the summer of 2009 – in a tasteful charcoal grey.  I'm afraid that I think I preferred the old red seats and carpets.  Studio 2 was converted to HD with Sony HDC-1500 cameras in the summer of 2009 with Studio 1 receiving its upgrade around Christmas that same year.  Studio 3 reopened with a refurbished gallery and HD cameras in the summer of 2012.
Perhaps amongst the general public the LWT studios are best known for the many popular entertainment shows that took full advantage of the superb facilities in studio 1.
In the '70s, LWT's fast moving answer to TOTP was called Supersonic and was famous for its gallery shots of director Mike Mansfield cueing the next act.  With its wide double tier of audience seating, studio 1 soon became a familiar sight on our TV screens with shows like An Audience With… and Game for a Laugh – a tradition that continued in subsequent years with various specials featuring A-list performers, and ITV series such as Al Murray's Happy Hour, The Jonathan Ross Show and Ant and Dec's Saturday Takeaway.  Let's not forget that The Graham Norton Show, Have I Got News For You and QI were also made here for BBC1.  For four and a half decades the studio produced some of the most popular Saturday night series such as Blind Date, Surprise Surprise, Pop Stars – the Rivals and ITV's version of Parkinson.  It was fully booked right up to the end and would certainly have remained so for the foreseeable future.  It will truly be missed by a huge number of people.
The bad news. I mean the really bad news…
On 21st February 2017 I was working on Upstart Crow.  There were rumours that ITV's management were going to announce that the building would close for a few months in order to completely refurbish the studios.  The ITV staffers went to meetings with their various managers and returned shocked and devastated.  The extraordinary news was that despite their popularity and success, the studios would be closing permanently in the spring of 2018 and would be demolished to make way for new offices for ITV's management and production staff.
You can imagine how this went down.  In the supper break I wandered round the building and took the following photos on my phone.  They show a busy, thriving studio centre – packed with useful facilities and with a potential future of many busy years ahead.
Click on any of them to see in greater detail.
 If you want to see more photos of how these wonderful studios looked just before they closed – do visit this site that has hundreds of excellent pictures by Steve Fuller. Warning – if you worked in the studios be prepared to shed a tear. www.stevefullerphoto.com/article/farewell-london-studios/
Over the following weeks the plans became clearer:
The entire building including the 24-storey Kent House and all the studios were to be demolished, to be replaced with a 31-storey tower containing mostly luxury apartments and a token amount of 'affordable' housing.  Replacing the studio block would be two more towers with offices for ITV's staff.  Within the building would be 3 small studios, specifically for ITV Daytime. These would effectively replace the previous studios 3, 5 and 8.  There were going to be no large production studios.
ITV's board of management took the extraordinary decision that it was not cost effective to own production studios any longer – 'the market' would provide facilities for ITV's future studio-based shows.  In other words, BBC Studioworks.  Thus TLS as a company would fold at the end of April 2018.  Any responsibility as a public service broadcaster to provide facilities for the industry had long been forgotten and not demanded by the government or Ofcom.
Of course, unlike the early days of ITV, the board is no longer made up of people with personal experience of actually making television.  The Chief Executive in 2018, for example, was previously CEO of EasyJet.  The previous head of ITV who actually took this extraordinary decision was formerly CEO of the Football Association and then he headed up the Post Office.  So not a lot of programme making experience there.  These people are simply men and women in suits, looking to make a profit for their shareholders.  They move from company to company every few years to further their career – it doesn't seem to matter what that company actually does.
To cover the 4 to 5 years it would take to demolish and rebuild the site, ITV Daytime took out a long term booking of TC2 and TC3 at Television Centre.  Most of the shows previously made in TLS studios 1 and 2 were then made in TC1 at Television Centre and BBC Studioworks' studios at Elstree.  In fact, The Jonathan Ross Show reopened TC1 at the end of August 2017.  Thus, in effect, the BBC ended up providing studio facilities for ITV and because there are now only three studios at TVC, hardly anyone else can get a look in.  Which, whatever spin you put on it, is completely bonkers.
The studios closed at the end of April 2018.  There was an 'ultimate wrap party' on May 1st which I attended but despite being superbly organised it was hardly a celebration, more like a wake.  I saw many very angry, upset faces around me – and quite right too.  With a bit of imagination, this redevelopment could have kept studios 1, 2 and 3 – or even improved upon them, but no.  By contrast, the new scheme at the old Granada Studios has demonstrated how it is possible to retain invaluable studios like these in the midst of a large high tech redevelopment.  Unfortunately, the board of ITV sadly demonstrated a lack of passion for (or even interest in) making television.  If only ITV was still run by the talented, knowledgeable and imaginative entrepreneurs who ran LWT, Thames, ATV and Granada so successfully for so many years.
In October 2018 came the news that frankly many had anticipated.  ITV in fact had no intention of returning to this site.  They had decided to stay where they were, thank you very much.  ITV Daytime would use the two BBC Studioworks studios at TV Centre indefinitely and the ITV staff were to remain in their current offices around London.  (In 2021 it emerged that ITV would be moving all 2,000 of their office staff into the BBC Broadcast Centre at White City.  Well I never.)  In November 2019 it was announced that their South Bank building had been sold to Mitsubishi Estate London for £146m.  Apparently, ITV planned to put £50m into the ITV pension fund and the rest went towards reducing ITV's debt.
One last show at TLS!

In January 2021 a press release revealed that a Danny Boyle-directed 6 episode drama series about the Sex Pistols was in pre-production.  The show is called Pistol and was being made by FX, a subsidiary of Disney.  Although FX is a US TV channel, shows made for them are often shown in the UK on other networks and streaming services.

The drama was based at TLS – with the first 7 floors of Kent House being occupied by production offices.  I was informed that all 5 studios in the building would be used as shooting stages, with Studio 3 being made to resemble the old Riverside Studios during the 1970s for one particular scene.  Filming commenced in March 2021.  At least the empty studios were being used for something productive before being torn down, which is a small gem of good news.

Below is a photo kindly sent to me by Brendan Gardiner.  Guaranteed to confuse passers-by in 2021, it shows the old ITV HQ with 'Thames Television Studios' proudly displayed on its frontage.  No doubt the famous interview with the Pistols on Thames TV on 1st December 1976 that ended Bill Grundy's career will feature in this drama.  The studios that it actually happened in were next to the Euston Tower and no longer exist.