Associated-Rediffusion also moved into a large ex-RAF building in Kingsway called 'Adastral House.'  During the war it was the headquarters of the air ministry.  Its roof became well known to listeners of radio weather forecasts as the place in London where the air temperature was measured.  Once A-R moved in it was quickly renamed Television House.  (This building also became the first base for the studios of ITN.)  It contained four small studios used for current affairs, presentation and 'talks programmes' and was also the headquarters of the company.
Associated-Rediffusion were very keen to be seen as respectable and just as important as the BBC so they chose a site more for its prestige than its practicality.  They moved in during 1955 whilst alterations were still underway which made life very difficult for the new staff.  A-R's four studios in Television House were as follows: Studio 7 (33 x 24 ft), studio 8 (38 x 25ft), studio 9 (64 x 40ft) and studio 10 (26 x 12ft).  (Studios 1 – 4 were at Wembley, studio 5 was in the planning stage and studio 6 was the Granville Theatre – mentioned above.)  Studios 7 and 8 were used for 'talks' programmes and 10 was the continuity studio.  The Viking studio in Kensington was not part of this numbering system, probably because it was owned by Marconi and hired from them on a daily basis.
Studio 9 was used for the coverage of important events such as general elections.  However, it was also used for some entertainment shows such as Ready Steady Go! before it moved to studio 1 at Wembley.  The first two series of this ground-breaking programme were made here and some fans of the show believe that these were the best – the confined space in the studio helping to produce an electric atmosphere.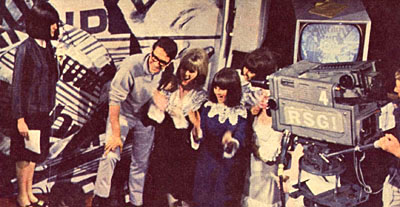 Apart from studio 9, which was in the basement and opened in November 1955, the others were all pretty small and apparently had very low ceilings.  In his autobiography Leslie Mitchell complains that the studio they used for talks (7?, 8?) had a ceiling so low that they could not use overhead lighting.  He also complains of inadequate air conditioning.  Typical programmes made at Television House included The Frost Report,  The Levin Interview,  Three after Six and This Week. 
The building was very large and impressive and just over the road from the BBC's Bush House, which must have given the new owners some satisfaction.  Its television studios were the first in central London.  The Rediffusion logo was proudly displayed on the front and became known by some as the 'Adastral' – an appropriate name that echoed the previous owners of the building (RAF) whose motto of course is 'Per Ardua Ad Astra' ('Through struggle to the stars'.)
Although it was the HQ of A-R, Television House was also used by ATV for office space on the 5th and 6th floors and the TV Times had its base here too.
ITN had its studios in this building on the 7th and 8th floors.  They were accessed by a rather unreliable lift, which added to the excitement of getting out live bulletins.  Their main studio was 38 x 29 ft and was equipped initially with Pye Mk 3 cameras, later being replaced with 4 x Marconi Mk IV cameras.  In the Pye days, one of the cameras was equipped with a Watson 3in-15in zoom lens (shown below) – quite an innovation in those days.
When Television House was closed in 1969 ITN moved to a new building in Wells Street.  (See later on this page).  Their main studio in that building was 2000 sq ft – more than twice the size of this one.
In 1968 Thames took over Television House and they converted the foyer into another studio which became 'Studio 4'.  Since Thames was based at Teddington which had three studios, this made perfect sense.  The daily local news programme Today, presented by Eamonn Andrews, came from here and behind him commuters could be seen walking along the pavement and occasionally peering through the windows in the background of the shots.  One of the reasons Rediffusion lost the franchise in 1968 was that they had neglected local news.  The new franchisee, Thames, therefore thought it very important that their local news service was literally as highly visible as possible – hence the window looking into the studio. 
As soon as Thames took over the building they started to look for something more suitable and in 1969 they moved to Euston Road. More on this later.