ABC TV did not have a London franchise but realising that most acting and showbiz talent was based in London they decided that they needed to have a London-based production centre with large studios to make their network shows.  They converted some old film studios located in Teddington, on the western edge of London.
These popular studios later became part of the Pinewood Studios Group and the home of many well-known sitcoms and other big entertainment shows.  The site contained two production studios which were used to make many programmes for the main network channels: studio 1 – 8,900 sq ft (98 by 74 metric feet within firelanes) and studio 2 – an unusual T-shaped studio of about 5,700 sq ft (75 by 62 metric feet at its widest.) 
There were also six small studios around the site – most were closed by the summer of 2013: Studio 3 (2,098 sq ft) had a long history of classic children's programmes including Magpie and Rainbow and was used in the 2000s by a couple of shopping channels and as the base for a roulette-based gambling channel.  In its final years it was fitted with a hard infinity cyclorama which could be painted white, green or blue.  Studio 4 (1,475 sq ft) was originally built as a music studio and following conversion to a TV studio in 1994 was booked by various digital channels. From early in 2008 to September 2010 it was the home of CBeebies continuity. Studio 5 operated as a continuity studio used by the Chinese Channel – closing in 2014.
Studio 6 was converted in 2004 from the old viewing theatre in the Admin Block and for a while was the home of the Jewellery Channel;  7 was built in the old prop store area near studio 2 in the summer of 2005 for the Quiz Call channel (the channel closed in 2007 but Quiz Call as a programme continued to air for a while on Channel 5).  Meanwhile studio 8 used to be edit 1 and became a continuity studio for Turf TV.  From the autumn of 2007 to summer 2013 Teddington also housed the linking hub for the video feeds sent from race courses to the UK's betting shops.
As well as providing facilities for many independent production companies and even occasionally BBC Comedy department, Teddington was for a while the playout centre for several digital channels. However, its origins were far removed from all this…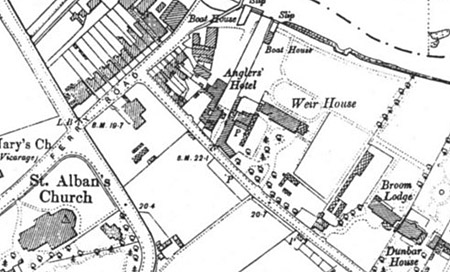 The early film years…
The studios' history goes back to the end of the 19th century and the early days of filmmaking.  Originally an impressive mansion called Weir House stood on the site and its owner, wealthy stockbroker Henry Chinnery, took a keen interest in the early experiments in cinema.  One version of the story goes that whilst walking in Teddington he took pity on a local film crew struggling in the rain and invited them to use his greenhouse.  Another version has him allowing them to use his garden for filming as he was already fascinated by the new medium – and then they used the greenhouse when it rained.  Either way, there was rain involved and they all ended up in the greenhouse.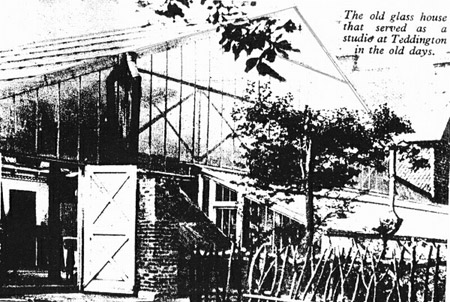 The site soon became a permanent base for film making.  In 1912, a company called Ec-Ko Films used the grounds of the house to make a series of low budget comedy and cowboy films.  The banks of the Thames in south west London not the obvious place to simulate the Arizona desert but there you go.  At least being silent they didn't have to worry about the accents.  The chap who led Ec-Ko apparently also ran a troupe of circus acrobats.  Of course.
Ec-Ko stayed for three years before moving on to another studio in Kew.  A new company – Master Films – took over in 1916.  They built a 'dark' (i.e. not glass) stage in the grounds measuring some 60ft by 40ft.  This was probably where studio 2 later stood.  Master made many films but apparently they weren't up to much – I gather they suffered from several small fires due to using the new-fangled carbon arcs in the stage.  Eventually it burnt down completely in 1929.
In 1931 the studios were renamed Teddington Film Studios by Henry Edwards and E G Norman – Edwards' wife Chrissy White was said to be the driving force behind this.  She was an actress and very keen to be in the 'talkies' so persuaded her husband and his business partner to build her a studio.  They did indeed construct an impressive a new sound stage on the site – this eventually became television studios 2 and 3.  The stage was T-shaped and capable of being divided into two (A and B) if required. When used as one stage it was 130 ft long.
Warner Bros were so impressed by the work that Edwards and Norman had done in fitting out the studios and associated facilities that in August of the same year (1931) they took out a lease on the studios – later buying them outright – using them mostly to make 'quota quickies.'  The studios were renamed 'Warner Brothers First National Productions Ltd'.  Warners continued with the investment and between 1934 and 1937 they built another much larger stage (on the site of the later TV studio 1) with associated dressing rooms, prop stores, offices etc as well as the Admin Block facing Broom Road and what later became known as the Production Block facing the river – this had a garage for location vehicles on the ground floor and offices above.
Many successful films were made by Warners during this period and a number of famous actors developed their craft here including Rex Harrison, Cecil Parker, Margaret Lockwood, Felix Aylmer, Charles Hawtrey and a young Errol Flynn.  Max Miller made no less than 8 comedies here.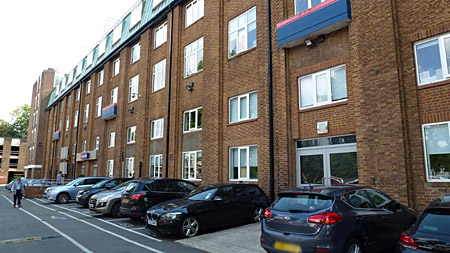 Scenery construction was carried out by Warner Bros in buildings along the side of the site where the South Block and multi-storey car park were later built.  These were faced with building fronts in various architectural and period styles so they could be used as backgrounds for filming.  A couple of curious gargoyles incongruously attached to the side of the car park is all that remained of these buildings in later years. 
The new stage 2 was also given an imposing frontage, enabling it to be used as the entrance to a posh hotel, office block or similar with a little redressing of signage.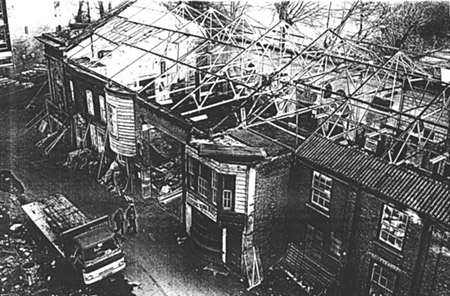 When war broke out there was a brief pause but then Teddington became busy making films for Warners and other production companies.  It was unusual in remaining open – most other film studios had been requisitioned by the government for storage.
The numbering of the stages on the site is somewhat confusing so I do hope you're keeping up.  The first stage was subdivided into A and B.  The later stage (TV Studio 1) was called Stage 2  at which point the original stage was called Stage 1.  In other words, the opposite of how we later referred to Studios 1 and 2.  Confused?  Don't blame me.
On the evening of July 5th 1944 at 8.10pm a V1 flying bomb bounced off the corner of the powerhouse and reportedly landed in the space between the Admin Block and Stage 2 (later TV studio 1).  Curiously, the photo below seems to suggest that the blast happened at the back of the stage near the dock doors.  However, they do say that bomb blast affects buildings in strange ways.  In any case, wherever it landed there were diesel oil tanks buried beneath the concrete and the whole lot went up with a huge explosion.  Three employees including the studio's production manager, 'Doc' Salomon, sadly lost their lives.  The others were Harry Brayfield, the receptionist and a Miss Reeves who worked in the print department.  It might have been many more but since the bomb fell in the evening most people had fortunately gone home. 
The main stage was completely destroyed and the other older stage, Admin Block and some other buildings were gutted by fire.  The film in production at the time was completed in the studio garage on the ground floor of the Production Block, which had escaped damage and was hastily converted into a temporary sound stage.
In 1946 rebuilding began.  Oddly, government regulations insisted that reconstruction had to retain the size and appearance of the original buildings so any enlargements or improvements were not possible.  However, it would appear that when the original older stage was rebuilt, it was decided to divide it into two stages permanently.  The division was not, however, where the two parts of the 'T' shape met but some way down the long 'leg' where the roofline became lower.  (Thus the small studio 3 was created next to studio 2.)  The intention at the time was that this small stage would become a sound recording studio and that a new large stage, 140ft x 100ft, would be constructed in the space between the existing stages and the Production Block.  However, this stage was never built.  The fortunes of Teddington Studios might have been very different had it been constructed.  If later converted to TV use it would have been the same size as studio 5 at Wembley (This became Fountain Studios).
The restored studios were re-opened by Danny Kaye in January 1948 – he was in the country to appear at the Palladium.  For a brief period they were busy and actors such as Nigel Patrick, Richard Greene, William Hartnell, Kenneth More and Richard Burton appeared in films made here.  Unfortunately, this success was short-lived and within two or three years the British film industry was in crisis.  Not only did the government abandon the British-made quota, they imposed a tax on cinema tickets.  Studios all over the country were closing and in November 1951 Teddington went into 'care and maintenance.'  Film-making ceased and during the next few years the site was used by the Hawker Aircraft company, who had a factory just over the river in Ham, for storage. (One wonders how they transported things between the factory and the studios. Surely not over the footbridge?)
The arrival of television…
In November 1958 ABC Television bought the site and began the task of adapting the studios for TV use.  Although ABC did not have a London franchise they still had to supply programmes to the ITV network.  One of their most successful series was  Armchair Theatre.  This series was initially transmitted live from Didsbury (Manchester) each Sunday night.  The perils of live drama included actors forgetting lines and cameras breaking down.  In fact, during one memorable performance of Armchair Theatre one of the actors was actually found dead in his dressing room just before transmission.  The rest of the cast carried on like troupers and improvised his lines to keep the show going.  After a while the show was very sensibly telerecorded on 16mm film.
Perhaps not surprisingly, it was becoming difficult finding top actors based in London who were not working and would or could make the journey to Manchester.  It became clear that the company needed some London studios so that actors could rehearse during the day and go to their theatres in the West End in the evening.  ABPC Elstree was considered as it was of course owned by the parent company but the unions were not at all keen on letting TV productions with their odd hours and working practices onto a film studio site.  Teddington was empty and seemed suitable, although it was a few miles west of theatreland. 
In 1959 ABC installed the UK's first RCA videotape recorder here.  It was a TRT 1B for those to whom such things are important.  A year earlier, Associated-Rediffusion had taken delivery of the first Ampex machines at Wembley.  By 1959 the cost of an Ampex VTR had risen from £15,000 to £25,000 which might explain why ABC bought from RCA – who were probably offering a good deal on a brand new machine.  By 1965 ABC had the first four RCA TR22 VTRs which were fully transistorised – quite something in those days.
Back in 1959, the new VTR machine at Teddington enabled ABC to make many programmes all round the week instead of having to broadcast them live at weekends from their studios in Birmingham and Didsbury.  Of course, programmes were not edited – simply recorded 'as live'.  To edit video required two or three machines, which for many years would be prohibitively expensive.  The alternative was cutting and splicing the tape – a risky and time-consuming process.  Also, very costly as the expensive reel of videotape could not be used again on another programme.
It might be interesting at this point to compare the approach of the three London-based ITV companies to live and recorded programmes. 

At the beginning ATV produced a mix of 'cheap' live drama and more sophisticated series recorded on film using high definition TV cameras at Highbury.  (Yes – 834-line progressive scan HD in the 1950s!)  The High Def days ended in 1956 and all drama was then live shot in normal 405 lines.  Some dramas began to be recorded remotely on videotape at Highbury from 1960 but always 'as live.'  It was only from 1961 when they moved to Elstree that all drama was recorded. 

ITC drama series made for ATV were shot on 35mm film with an eye to the export market.  Most of ATV's entertainment shows – even a number of adverts – were live until the early 1960s.  Even then, as a few ITV shows still are today (eg The X-Factor), some shows were live.  When, from the 1960s onwards, they made an entertainment show for sale to the US it was recorded twice.  Once in 405 lines for the UK and then in 525 lines for the US.  Standards converters were pretty poor quality in those days.

Associated-Rediffusion telerecorded drama on film (in 405 lines) but that was after a few years of live transmissions.  Perhaps surprisingly, they also telerecorded some gameshows.  Apparently, they would use several contestants in a show like Double Your Money but only transmit the interesting or amusing ones – editing the film afterwards.  This might explain the success and longevity of the show.  This technique is used frequently now but in the 1950s it was revolutionary.

ABC transmitted all its drama live at first but realised that this was hugely wasteful of studio resources – and sometimes risky!  They then purchased the 16mm fast pull-down telerecording system developed by the BBC and sold by Marconi and installed it at their Manchester base but not at Teddington.  That would receive one of the first VTR machines – in 1959.  Before the VTR was available, most entertainment and children's shows were live and many remained live as videotape was so expensive.
Initially studios 2 and 3 were converted – flat floors were laid, telescope lighting grids installed and a control room suite was built alongside Broom Road in the area formerly occupied by the viewing theatre.  This initially serviced both studios 2 and 3.  Well, actually studios '3 and 4' – as the studio later to be called studio 2 was initially numbered 4.  I assume this was to avoid confusion with Didsbury's studios 1 and 2.  However, by July 1960 studio 4 had been renamed 'Teddington studio 2'.  Just to confuse everyone even more, there are some set plans still existing that were drawn after that date that still have the studio number 4 – but one assumes that's because they had a load of blank plans already printed and sensibly used them up rather than chucking them all away.  (Thanks to Alan Hayes for this info.)
Armchair Theatre  began to be made here from the summer of 1959 – sometimes using studio 3 as well as 2.  Studio 1 was used as a rehearsal room before work began on converting it for television use.  The studios were equipped with Marconi Mk III Image Orthicon cameras.  A few years later these were replaced with EMI 203 cameras, which lasted until colourisation in 1968/69.
Once the first phase of construction was up and running, the major building work could commence.  Weir Cottage and its garden were purchased which enabled the main site entrance to be located between the cottage and studio 3.  A new reception area was built on the site of the original vehicle entrance.  Behind that and linking studios 2 and 1 was the site of the new technical block.  This contained large control room suites for studios 1 and 2, videotape and telecine areas and a Central Apparatus Room.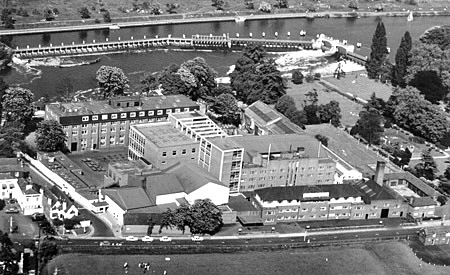 The control rooms were designed with a 'fan' layout – all the desks on a curve with large windows separating the three rooms.  This enabled each person – in particular, the director – to be able to look along the line and see everyone.  This clever arrangement was copied in LWT's new studios on the South Bank but to my knowledge nowhere else.
Another innovative feature of this building was its raised 'waffle floor' that enabled cables to be easily routed around the building.  This was one of the first uses of this 'computer floor' design in the country – along with BBC TV Centre, which was also being constructed at this time.  The main block also contained rehearsal rooms and an 800 sq ft band room.  (The latter was converted into studio 4 in 1994.)
One of the new features was an impressive building behind studio 1 for the painting of scenic cloths.  This was similar to the paint frame at TV Centre.  It had a working floor some 15 feet high with a slot either side enabling a cloth to be hung through it.  The backcloths would be suspended on a bar using counterweights so they could be raised or lowered enabling scenic artists to work on them.  When completed they were rolled up and lowered on a hoist out of a door at high level.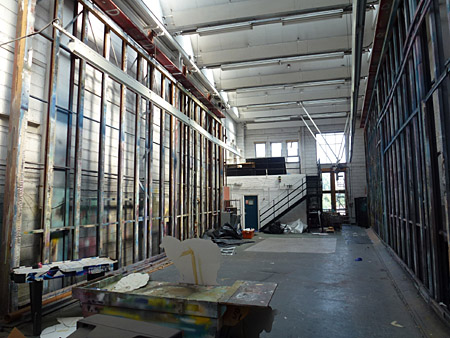 By late summer 1962 the new building was complete.  Studio 1 opened with EMI 203 cameras – the other two studios had their Marconis replaced with EMIs soon afterwards.  The first show made in studio 1 was almost certainly The Avengers – an episode called 'The Decapod' from series 2, recorded on 13th September.  Series 1 and the rest of series 2 had been made in studios 2 and 3.  (From 1964 onwards this popular drama moved to ABPC Elstree studios and was shot on 35mm film.)  The predecessor to The Avengers was a series called Police Surgeon.  Many of these were made at Didsbury but some were recorded at Teddington in studio 2.  (Thanks to Alan Hayes for the Avengers/Police Surgeon info.)
In 1965 the restaurant block was built overlooking the river, providing excellent catering and social facilities for staff and visiting artists.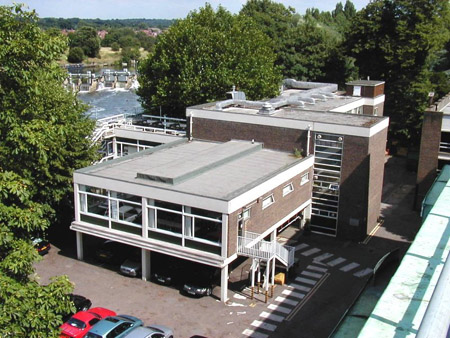 Jumping ahead in our ITV history – in 1968 there was a big surprise in the awarding of franchises.  ABC lost the Midlands and North at weekends and Rediffusion did not automatically get its London franchise renewed which they had assumed was a foregone conclusion.  Both companies were fiercely independent and each very popular with viewers. 
The ITA had one franchise to fill – London's weekdays – so they forced ABC and Rediffusion to merge and form Thames Television.  Neither company was happy with this arrangement – particularly Rediffusion who were awarded 49% of the new company to ABC's 51%.  They had to sell their Wembley studios to the new LWT but they did keep their central London ones at Television House in Kingsway which became the HQ for Thames local news, sport, religion and current affairs.  Later these departments would move to Euston.  Most of Rediffusion's Wembley staff stayed on to work for LWT.
Thames took over the ex-ABC staff plus a number from elsewhere and made Teddington its base for drama and entertainment.  There was always a bit of rivalry between the two branches of Thames – they even had slightly different programme idents for a while.
There was more major building work on the site in 1973 when a new office building was constructed by Thames, filling in the one remaining gap in the buildings and linking with the production block at the rear of the site.  Beneath and alongside this was a new scenery construction workshop.  A floor in this building was used as the location for filming Ricky Gervais's comedy The Office  in 2001 and 2003.  This building later became part of the area occupied by Haymarket Publishing and following refurbishment the upper floors were used as working offices again.  I wonder if the people in there realised that they weren't just working in 'an' office but 'the' office?
The final stage of construction was in 1975 when the multi-storey car park was completed. Cars must have been much smaller in those days as this car park surely had the smallest parking bays with the least amount of space for maneuvering between them of any in the UK.
The creation of Thames in 1968 coincided with a huge change in technology – the introduction of colour to ITV.
Colour and HD

The studios were upgraded to colour with EMI 2001 cameras being installed in 2 & 3 in 1968 and studio 1 in 1969.  (ITV began colour transmissions on November 15th 1969).  These cameras were replaced one studio at a time between 1980 and 1985 with RCA TK47s which were said to be not very popular with cameramen or some engineers.

Their replacements in the early 1990s were Ikegami 355 CCD cameras which produced infinitely better pictures.  These cameras were upgraded to become digital widescreen versions in the mid 1990s and astonishingly remained in use on occasions right up to 2012.  When they stopped being used (they were never formally withdrawn, just inevitably every show eventually booked HD cameras) they were very much showing their age and must have been the oldest cameras in any major TV studio in London. 

Sadly, this says as much about the way the studios were run by both owners after Thames left as it does about the cameras.  Pinewood took the odd attitude when new HD cameras were purchased that they would not throw away the old ones but expected hirers to use them if they happened not to be recording in HD.  Every other studio quite rightly ditched the old cameras when HD ones were purchased.

From 2005 to 2007, Studio 1 produced several sitcoms which were recorded in high definition – using cameras, monitors, VTRs and vision mixer temporarily installed by hire company Presteigne.  The cameras in 2005 were Sony HDC-950s and in 2006 they were HDC-1500s.  Teddington at last took delivery of four new HDC-1500s in August 2007.  Two more cameras – HDC-1000s – were bought in 2009.  However, the HD vision mixer, lighting gallery monitors and VTRs still had to be hired in when an HD production was being recorded.  If a proper HD installation had been carried out in, say, 2007 the company would probably have saved huge amounts of money over the years.  That's what happens when companies only think short term.
Of course Teddington Studios under Thames Television was the home of many classic series including This is Your Life,  The Des O 'Connor Show, various Tommy Cooper shows ('68-'80), Opportunity Knocks ('64-'77), The Kenny Everett Video Show ('79-'81), children's series like The Sooty Show ('68-'92), Magpie ('68-'80) and Rainbow and of course,  Benny Hill ('69-'89).   Between 1978 and 1983 Morcambe and Wise recorded several series at Teddington after they left the BBC.  Sooty too was previously a BBC star.  He and Sweep made the move here in 1968 and lasted until the demise of Thames in 1992.  An astonishing 43 series containing 481 episodes were made between 1955 and 1992, at first hosted by Harry Corbett; then from 1976 his son Matthew took over – but frankly never looked as thoroughly miserable as his Dad by the end of each show, always soaked in water or smothered in filth.  "Bye-bye everyone, bye-bye."
Incidentally, Op Knocks was one of very few programmes made by Thames to have previously been an ABC TV production.  (In fact, the first series was made by Associated-Rediffusion at Wembley in 1956, then ABC made it at Didsbury between 1964 and 1968.) 
A previous Rediffusion show was Do Not Adjust Your Set – a forerunner to  Monty Python  starring Michael Palin, Eric Idle, Terry Jones, Denise Coffey and David Jason.  Series 1 was recorded at Rediffusion's studios in Wembley and series 2 here by Thames at Teddington.  Frankly, the best bits are the performances by the Bonzo Dog Doo-Dah Band.  Worth tracking down a DVD just for them.
Although usually remembered for its popular light entertainment and comedy shows, Thames also made several highly regarded studio dramas here.  These included Special Branch ('69-70),  Van der Valk ('72-'73) and The Tomorrow People ('73-'79).  In 1974 Lee Remick came to Teddington to make the distinguished drama series Jennie: Lady Randolph Churchill.  Another historic series followed – Napoleon and Love with Ian Holm and Billy Whitelaw.  1978 was the year of Edward & Mrs. Simpson – another BAFTA winner – with Edward Fox best actor for his portrayal of the King.  Rumpole of the Bailey ('78-'83, '87-'92) was another of Thames' great successes and as a contrast they also made the highly original musical drama Rock Follies ('76, '77) here at Teddington.
Peter Middleton has let me know that he worked on a daytime soap in studio 2 in 1973 called Marked Personal with Stephanie Beacham, Tony Anholt, Lewis Collins and Dinah Sheridan.  This seems quite early for that kind of show but he tells me that the first ever UK daytime drama series was Harriet's back In Town, made in 1972.  This starred Pauline Yates and William Russell.  He says they were made on a tight budget but good fun to work on as they didn't involve too much hanging about.  Having worked on one or two dramas in the 1980s at Television Centre that did involve quite a bit of hanging about, I know what he means.
For the whole of its existence as a TV studio, Teddington's studio 1 was very popular with sitcom makers.  From the early days of ABC, shows like Happily Ever After ('61-'64) and  Never Mind the Quality, Feel the Width ('67-71) established a tradition of live audience multicamera comedy that continued to the end.
Thames produced many popular sitcoms including Father Dear Father ('68-'73) , Bless This House ('71-'76), Man About the House ('73-'76), George and Mildred ('76-'79),  Robin's Nest ('77-'81), Shelley ('79-'92), After Henry ('88-'92) and Never the Twain ('81-'91).  Leonard Rossiter's final sitcom Tripper's Day was recorded here in 1984, the actor sadly dying during the run of transmissions.  Two years later, despite the original series not being particularly well received, it was revived with no less than Bruce Forsyth in the lead and renamed Slinger's Day.  This was the only time Brucie attempted a sitcom role but he can't have been that bad as it was brought back for a second series.
More recent productions are listed in the section about Teddington post Thames, towards the end of this section.
Teddington has a feature that is shared by only one or two other studios to my knowledge. The studios were said to be haunted and several sightings were made. During the setting of  As Time Goes By  in January 2005 a figure was seen looking out of a window on a set but when the witness turned back to see who it was they had vanished.  A few years before, a security guard was locking up a dressing room and apologised to the woman sitting inside.  Realising that nobody should be there he opened the door again but nobody was inside.  A publicity photograph of a light entertainment show has a figure standing on part of a set looking out of a window where actually there was no floor – it was just part of the set designer's illusion.  Nobody can explain how the shadowy figure got on the image.  There is also a photo of the ruins of the building after the V1 explosion that seems to show a figure amongst all the rubble (see below).  I gather some have even seen a spectral dog – but no cavalier with his head under his arm you'll be relieved to hear.

Meanwhile, Pete Rogers wrote to me in 2007.  He had been in an audience – the back row of seats on the studio floor for a show in studio 2 – and distinctly felt something flick the top of his head in the way a teacher would to a naughty child.  He says there was nothing around that could have caused it.

Apparently there is a ghost in this photo. Is that a spectral lady on the right or am I looking in the wrong place? Hmmm.
In its heyday, Thames was producing some of the most popular and highly regarded programming on British Television. It always gave the BBC a run for its money and its dedication to high standards both technically and artistically was exemplary. It believed in thoroughly training its staff and they worked at Teddington with a true sense of loyalty and dedication. Thousands were employed here – every inch of the site was filled with offices, workshops, post production facilities and of course the studios. Its slogan was 'A Talent for Television' and this certainly rang true. When Thames lost the blind auction to Carlton in 1992 it was a genuine loss to the nation's television.
Many thanks to Howard Denyer for sending me some of the archive photos in the above section  which were compiled by John Tasker.
The history of Teddington continues towards the end of this section of the website – but to return to our history of ITV…
Back in 1955, ATV was the company that won the franchise for London at weekends and the Midlands during the week.  This arrangement did at least enable them to show the same filmed programme at different times in the two regions which must have been a cost saving.  They established a base in Birmingham that they shared with ABC TV – called 'Alpha Television.'  However, most of their premises were to be in London.
The company had been formed by a merger of two others that had previously been competitors.  One was called the Incorporated Television Company (ITC).  This collection of individuals was steeped in showbiz and consisted of Val Parnell and Prince Littler (Stoll Moss Theatre Group), Lew Grade (one of the top booking-agents in the UK), Stuart Cruickshank (Howard Wyndham Theatres), Binkie Beaumont (head of H. M. Tennants, the most important producers of plays in London) and Dick Harmel who was the right hand to South African millionaire businessman John Schlesinger.  Two thirds of the financial backing came from the Warburgs – a leading concern in the city.  Harry Alan Towers, a film producer, was also associated with this group.
The other company was the Associated Broadcasting Development Company (ABDC).  This was led by Norman Collins, Sir Robert Renwick, C O Stanley and the Pye electronics Company, combined with the Midlands Post and other business interests based in the Midlands.  This group owned Highbury Studios – see its own entry in this section.
Initially, the ITA awarded the franchise to the ABDC – they did not want the ITC to get the contract as they thought they dominated the entertainment industry too much.  The ITA considered that it would be better if ITC operated as independent programme-makers, supplying shows to all the ITV companies.  However, the ABDC could not raise sufficient funds to operate as a contractor.  ITC did have the necessary funding so the ITA reluctantly agreed to a merger of the two companies.  ITC did very well out of this arrangement.  They owned 50% of the new company but also remained a production company in their own right, so any programmes they made that were shown on ITV would earn royalties to them alone when sold abroad.
The new company called itself 'Associated Broadcasting Company' – or 'ABC' which unfortunately was almost the same name as – well – 'ABC TV', the offshoot of the Associated British Picture Corporation.  Confused?  Do keep up.
Thus, the name was changed to Associated TeleVision – or 'ATV'.  By September 1955 the company had established its presentation and control centre in Foley Street.  It could use the theatres its partners owned (like the London Palladium) for outside broadcasts and its new OB units were of course built and equipped by Pye – also a partner in the company.  (The first  Sunday Night at the London Palladium was broadcast on 25th September 1955.  It starred Gracie Fields and was introduced not by Bruce Forsyth – he came later – but by Tommy Trinder.)
As mentioned above, the owners of the new company already possessed Highbury Studios but ATV also converted two of their Frank Matcham variety theatres into studios – the Wood Green Empire and Hackney Empire.  Highbury would not be used as a conventional TV studio until October 1956 and The Hackney Empire would not be ready until February 1956 but Wood Green made its first programme on the opening night of ITV – 22nd September 1955.
This first night was a weekday so normally would be the responsibility of Associated-Rediffusion. However, ATV (at the time called 'ABC' of course) were also involved on this one special night. There is a rather sad story surrounding this. It seems that there were several problems to do with sound feeds on the big night.  ABC's Deputy Head of Sound took the responsibility for this upon himself.  Apparently, he didn't turn up for work the next day – in fact he was never seen again and it was believed that he had jumped into the Thames.  Hard to imagine quite that sense of dedication these days, frankly.