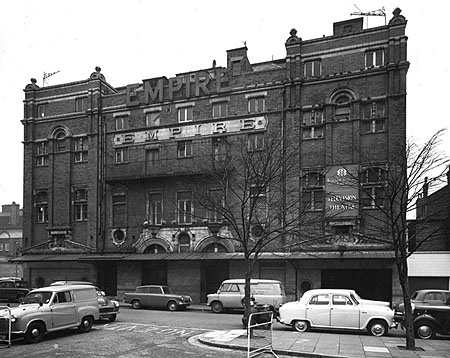 This theatre dates back to 1901, having opened that year on 9th December.  Built initially with a seating capacity of 2,158 with a further 691 standing, the theatre remained on the variety circuit for some 54 years before closing probably towards the end of 1955.  ATV took it over and made their first programme there on 29th February 1956.  They initially extended the stage 15ft over the orchestra pit, although by 1958 the working area spread over the whole stalls area.
The camera and lighting equipment at Hackney were similar to that installed at the Wood Green Empire.
ATV used the theatre for a number of quiz shows and music shows.  Ken Levon recalls 64,000 Question for example.   The British version did not give out thousands of dollars or even pounds as prizes – apparently it was that number of sixpenny pieces – so a total of £1,600.  This was later doubled to shillings but despite £3,200 not sounding very much, it was actually the largest prize on British television at the time.  The first series of this show ran from May 1956 to June 1957 and the second from September 1957 to January 1958.  Between the two was spinoff 64,000 Challenge, which ran from June to August in 1957.  The show was axed when the ITA (who governed ITV) imposed a limit on prizes following the Twenty-one scandal in the US – partly on the suspicion that some British gameshows might possibly also be rigged.  Hard to imagine isn't it?
If you've never heard of Twenty-one or the controversy surrounding it – I can highly recommend the movie Quiz Show. Apart from being a gripping story, it's a really well researched film showing how US television worked in the 1950s.
Another US gameshow remade here was Dotto.  This ran from 1958 to 1960.  Interestingly, the US version of this show too was discovered to be rigged. 
Ken Levon tells me that he has been in conversation with Alan Grahame, the vibes player in the 'Jerry Allen and his TV Trio' group who played live music for many of the shows at Hackney.  Apparently, on Saturday afternoons they would do Face the Mike and a little later on the same day – 64,000 Question.  Now that is an efficient use of a studio.
Although ATV were the main occupants of the Hackney Empire, the facilities were leased to other ITV companies as and when required.  Indeed before Teddington was opened for television in 1959, ABC used this theatre.  Their most famous show made at Hackney was Jack Good's Oh Boy! and both series were made here.  Rediffusion also hired the theatre from time to time.  At one time Take Your Pick came from this studio – later moving to Wembley.  The Carroll Levis' Discoveries talent show was also made here for a while.
The last programme made here was on 21st December 1960.  Mecca took it over in 1963 and converted it into a bingo hall.  The bingo operation closed in November 1986, the building re-opening as a co-operatively run theatre/arts venue just a month later, on the 85th anniversary of its first opening.  It is now a Grade II listed building, and thanks to the Lottery and a high profile fund-raising campaign the auditorium has been restored to its 1901 condition.  Hurrah!  Well done to all involved.