from November 2021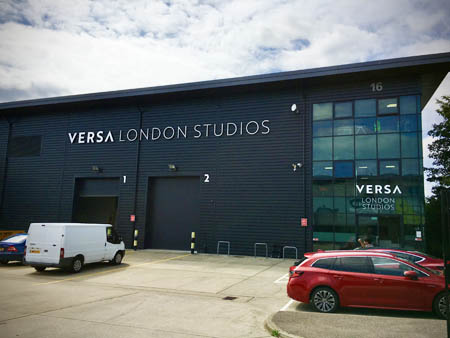 In the summer of 2020, Allied London submitted a planning application to convert some industrial premises at Unit 16, Vision Industrial Park in Kendal Avenue, Acton into a multicamera TV studio.  This road is where BBC Outside Broadcast department used to be based and is not far from Black Island Studios.  The application was granted in September.
The main studio (VL1) is 34 x 22 metres or 113 x 73 metric feet within firelanes and about 10,000 sq feet gross.  This makes it comparable with the Pinewood TV studios, which are 106 x 74 ft.  This is a very useful size for many types of audience-based multicamera TV shows.  The studio plans indicate an audience capacity of an impressive 500.  I am informed that mobile seating units have been ordered but may take a while to be delivered.
The only possible shortcoming is a relatively low grid height – the studio specs state 9 metres to the underside of the grid trusses but the hoists and trusses to support the lights themselves would have to be hung from this.  However, for many types of production this will not be an issue.  The grid itself is a ground support truss – the roof is not strong enough to support the weight of a full lighting and sound rig.  Incoming productions will have to design and supply their own rig to hang from the mother truss.  No dimmers or distribution are provided – these have to be hired in for each production.
The studio has three large 3 control rooms – on the ground floor (hooray!).  On the first and second floors are 17 dressing rooms – some with en-suite – and wardrobe/make-up areas as well as two production offices.  There is also a kitchen and large crew room.  It is assumed that incoming productions will organise their own catering so there is no in-house restaurant.  However, there is a very comfortable and attractively decorated large bar/club room on the top floor.  The studio has good access from the car park via dock doors through a scene dock.
There is also a small studio 2 on the top floor (22 x 16 ft approx) that is a simple 4-waller with links to the galleries.  This could be used for interviews or as a 'back stage' area in a talent show.
The studio was opened for viewing in August 2021 and I had a look round.  The building itself was finished with all the support rooms decorated and looking very smart.  The studio had been completed with Elgood floor, and sound-deadening on the walls and ceiling.  Technical fit-out was due to commence very shortly and the grid was due to be installed in September.  The first production went in during November.  It was Walk The Line, a new series for ITV made by Simon Cowell's production company, Syco.  In December the studio was officially 'launched', hoping to attract bookings in 2022.
The galleries have been fitted with large multi-view monitors and there are the usual comms and talkback facilities.  There is a Sony 32-input vision mixer and the sound gallery is fitted with a 56 channel Artemis desk.  There is a tab track at 8 metres (26 ft) and drapes are provided.
The studio is owned by Allied London, who you may recall are the people behind revitalising and re-opening Granada Studios and creating the new Leeds Studios.  These are now all being marketed under the name of Versa Studios.  In late 2020 Versa launched a new website, where they stated that they are 'The UK's national network of TV Broadcast and Film Studios.'  The website listed all three new studio centres and proudly announced that they would be opening 20 studios in London, Manchester and Leeds in 2021.  The website was relaunched at the end of 2021, stating 'With over 300,000 sq ft of new facilities to be launched in 2022, Versa facilities include studios, state of the art production galleries, production offices, dressing rooms and a Versa Club room at each location.'